Westinghouse 22-inch 3D LCD Monitor
Westinghouse 22-inch 3D LCD Monitor
Filed under: Televisions & Displays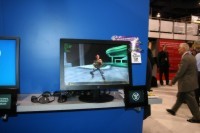 Westinghouse previewed a new 22" widescreen 3D LCD monitor that was so "pre-beta" it didn't even have a model number. Designed to replace a standard two-dimensional monitor, it offers polarization technology that allows users with a dual output video card (just about anyone) to view Direct3D and OpenGL content in real, no BS, 3D. Since it is driver-based, it doesn't require special code for game developers and it doesn't need you to stand in a particular area. By using polarized glasses (included) you simply view all screen content in 3D.
An exciting, but completely uncertain, secondary feature of this technology is the fact that the new Windows Vista operating system will incorporate a ton of built-in 3D grapghics rendered via the video card. It is entirely possible that this woudl also be rendered in real 3D for the user as well.
In any case, the monitor can be reverted back to 2D with the flick of a button - making it a darn good 22-inch display, even without the 3D capabilities. We all checked out the demo material and it was very impressive - I know I was itchin to get ahold of one and play through some of my favorite games.
Known Specifications:
22-inch LCD panel
1680 x 1050 resolution
Dual DVI inputs and VGA input
120-degree/90-degree viewing angle
5 ms response time
600:1 contrast ratio
300 nit brightness
16.7-million colors
If all goes well the 22" monitor should be available for pre-order Q2 2007. MSRP is ~$999 but we expect the selling price to be closer to ~$799. Westinghouse doesn't have additional information available, but you can get some additional info from the OEM company http://www.iz3d.com .