Toshiba HD-A20 HD DVD Player
Toshiba HD-A20 HD DVD Player
Filed under: DVD/HD-DVD Players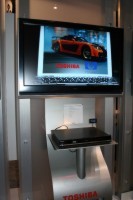 At CES, Toshiba specifically introduced the new HD-A20, which is expected to retail at $600. With the 1080p capabilities of the HD-A20, Toshiba has moved 1080p high definition to an attractive price point. The HD-A20 joins the existing Toshiba HD DVD line-up which includes the entry level HD-A2 and the top of the line model, HD-XA2. Jodi Sally, Vice President of Marketing, said that the second generation HD-A2 is selling through very well indicating a stronger market demand than before.
Toshiba's HD-A20 players output HD DVD content through the HDMI interface in 720p or 1080p for the HD-A20. Through the HDMI interface, standard definition DVDs can also be upconverted to match the resolution of HD displays. The HD-A20 is backwards compatible, so users can continue to enjoy their libraries of current DVD and CD software.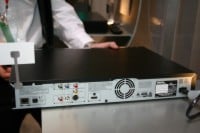 Both the HD-A20 and the high end HD-XA2 HD DVD players are designed to output 1920 x 1080p, the highest HD signal currently available, via HDMI (at least until DisplayPort announces a higher resolution and the HDMI Group retaliates by putting the industry into another tailspin). The premium HD-XA2 exceeds the HD-A20 by incorporating support for Deep Color output through HDMI, and a 297MHz / 12 bit Video DAC with high-quality, 4x oversampling for increased bandwidth for true playback of an HD picture to a video source. Additionally, it comes with a picture setting function allowing customers to optimize picture quality with user adjustable settings for color, contrast, brightness, edge enhancement and block noise, among others.
All of Toshiba's HD DVD players support a variety of HD audio options to complement its HD video offerings. This includes both lossy and lossless formats from Dolby Labs and DTS including the Dolby Digital Plus and Dolby TrueHD.
With black high gloss finishes and slim chassis designs, the new HD DVD player line has a refined, sleek appearance that complements Toshiba's extensive TV line-up.
Expected pricing and availability:
HD-A2 ($499.99, Available Now)
HD-A20 ($599.99, Spring 2007)
HD-XA2 ($999.99, Available Now)
Please see www.toshibahddvd.com for more information.