Sunfire XT-Series Loudspeakers
Sunfire XT-Series Loudspeakers
Filed under: Loudspeakers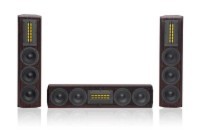 We checked out Sunfire Speakers at CES to see their debut of the new Cinema Ribbon Trio line, compact on-wall loudspeakers that "defy the laws of physics."
The two new Cinema Ribbon loudspeakers follow the debut of Sunfire's Cinema Ribbon Duos (CRM-2 and CRM-2C) launched at CEDIA 2006. All are part of Sunfire's XT-Series, a collection of the Sunfire's finest products. The CRS-3 ($1000 each MSRP) is intended for use as left and right channels while the CRS-3C ($1250 each MSRP) is designed for center channel applications. Both models will be shipping in March, 2007.
Low frequencies are handled by three 4.5" High Back-emf woofers (four on the CRM-2C) that are based on Sunfire's subwoofers. The CRS-3 handles up to 450 watts of power. The CRS-3 boasts a sensitivity rating of 90dB and a nominal impedance of 6 ohms. The CRS-3C center channel speaker utilizes the same 4.5" High Back-emf drivers in a 2-½ way "tapered array" and 6" ribbon as the CRS-3.
The CRS-3 and CRS-3C are both finished in hand-rubbed ebonized rosewood. Both models also feature a boundary compensation switch that allows the user to tailor the sound for the specific room or placement.
Key Cinema Ribbon Trio Features:
Three 4.5" high back-emf drivers for astonishing bass (four on the CRM-3C)
6" High efficiency ribbon delivers amazing detail and lifelike imaging
Boundary compensation switch for flexible placement
Hand Polished, Ebonized Rosewood Finish
About Sunfire
Sunfire is based in Snohomish, Washington and founded by Bob Carver
For media inquiries, please contact Eric Harper at (859) 422-7174 or by email at [email protected] More information on the company, its products and technology is readily available at www.sunfire.com.