Pioneer VSX Receivers With Satellite Radio
Pioneer VSX Receivers With Satellite Radio
Filed under: Receivers/Processors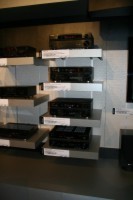 We looked at Pioneers receivers today at CES Las Vegas and were pleased to see the unveiling of three of the industry's first A/V receivers featuring satellite radio. Pioneer makes it easier for consumers to enjoy the digital programming of both SIRIUS and XM Satellite Radio with the three receivers that offer direct connectivity to both a XM Connect & Play antenna and SiriusConnect SC-H1 tuner (both sold separately; monthly subscription needed). Complete access and control of both SIRIUS and XM devices are made easy through the receiver's remote control with full on-screen display capability. All three models can receive XM HD Surround broadcasts powered by Neural Audio to provide listeners select music channels in 5.1 surround sound .
With the VSX-1017TXV, users gain access and control to personalized music and video files on their iPod. The unit offers direct connection via a separate iPod docking station. Consumers can purchase the optional Pioneer IDK-80 universal iPod docking station. With the unit's remote control and on-screen display capability, users can navigate the playlists in the player to share with friend and family through a high powered home theater system.

All three Pioneer receivers are outfitted with enhanced proprietary sound processing (DSP) technologies including, Sound Retriever and Front Stage Surround Advanced that are designed to improve the audio quality of movies and music in an array of room spaces. Customization and calibration is made easy with Pioneer's renowned Multi-Channel Acoustic Calibration (MCACC) room tuning function, which optimizes sound levels for premium multi-channel performance of high definition devices.
Specifications

VSX-517

VSX-817

VSX-917V

VSX-1017TXV

Amplification

110 watts x 5

110 watts x 7

110 watts x 7

120 watts x 7

Multi-Channel Acoustic Calibration

No

Yes Auto

(w/microphone)

Yes Auto

(w/microphone)

Yes Advanced

(w/microphone)

THX Select 2

No

No

No

Yes

Dolby Digital

Yes

Yes

Yes

Yes

Dolby Digital EX

No

Yes

Yes

Yes

DTS

Yes

Yes

Yes

Yes

DTS ES

No

Yes

Yes

Yes

DTS 96/24

Yes

Yes

Yes

Yes

Dolby Pro Logic IIx

Yes

Yes

Yes

Yes

DTS Neo:6

No

Yes

Yes

Yes

WMA9 Pro

Yes

Yes

Yes

Yes

Video Converter

No

No

Yes Component

Yes Component

HDMI Video Switching

No

No

Yes x 2

Yes x 2

S-Video inputs

No

3 in, 2 out

3 in, 2 out

5 in, 2 out

Component video inputs

3 in, 1 out

3 in, 1 out

3 in, 1 out

3 in, 1 out

Front A/V Input

No

Yes

Yes with Optical Digital input

Yes with Optical Digital input

Digital inputs

2 coaxial, 1optical

2 coaxial, 2 optical

2 coaxial, 3 optical; 1 digital out

2 coaxial, 4 optical; 1 digital out

Suggested Price

$199

$299

$399

TBD

Availability

April 2007

April 2007

April 2007

July 2007