Panasonic Plasmas
Filed under: Televisions & Displays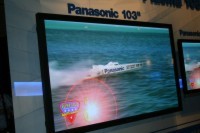 We looked at Panasonic's new 1080p displays at CES this week. The new displays come in 50", 58", 65" and 103". The diagonal 103-inch Plasma TVs are the largest on the market today. The displays have an aspect ratio of 16:9. They also have full HD resolution with 1920x1080 pixels. With 4096 shades of graduation and a contrast ratio of up to 4000:1, the Panasonic displays offer truer colors with deep rich blacks. They also come with three interchangeable slots that come standard with a DVI board and analog component board. Plug in architecture allows the addition of multifunction terminal boards for added connectivity and functionality.
The 103" comes with a limited 3-year warranty, but at CES Panasonic told us that ALL their plasma TV's come with a lifetime customer service plan. The pricetag is just a bit hefty at $69,995, and when asked if at that price they will deliver and mount the TV, they answered "No".
About Panasonic
Based in Secaucus, N.J., Panasonic Consumer Electronics Company is a Division of Panasonic Corporation of North America, the principal North American subsidiary of Matsushita Electric Industrial Co. Ltd. (NYSE: MC) and the hub of Panasonic's U.S. marketing, sales, service and R & D operations. Information about Panasonic products is available at www.panasonic.com.