Panasonic ELS 5.1 Home Theater Surround System
Panasonic ELS 5.1 Home Theater Surround System
Filed under: HTiB/Mini Systems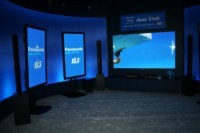 Panasonic introduced it's ELS 5.1 Home Theater Surround system today at CES. Multiple Grammy Award winning producer/ engineer Elliot Scheiner, has again aligned himself with Panasonic to bring the same level of expertise and creativity to a high-end home theater system that will also carry his signature nickname, ELS. The ELS Home Theater system will debut in the summer of 2007 with a suggested retail price of $4499.95. The system will consist of a specially developed 5.1 DVD-Audio receiver, four floor standing speakers and an active sub woofer with dual cone woofer capable of reproducing frequencies from 28Hz - 300 Hz.
The ELS home theater system consists of an AV receiver with triple amp drive, three HDMI connections, full HD 1080i video transmission, EZ-Sync HDAVI control, 192 kHz/24 bit audio A/D converter, DVD-Audio ready, 6 discrete channels, auto speaker set-up and gold plated terminals. The ELS receiver produces 100 watts of power to each of the 7 channels in surround mode.
When it comes to speakers, Scheiner is a proponent of utilizing full-range speakers all around, as opposed to using satellite speakers for the rear. He points out that satellite speakers might suffice for surround movie audio, but for music you want the full capabilities from each speaker. The ELS speakers are designed to compliment and optimize Panasonic's high definition home theater system's audio capabilities. The system also includes a sub woofer with a dual 6¾-inch cone and a frequency response of 28Hz - 300Hz.
Information about Panasonic products is available at www.panasonic.com.