Panasonic DMP-BD10 Blu-ray player
Panasonic DMP-BD10 Blu-ray player
Filed under: DVD/HD-DVD Players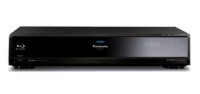 The debate between Blu-ray and HD continues with the introduction of the DMP-BD10 Blu-ray player this week at CES. In addition to playing pre-recorded Blu-ray movie discs the DMP-BD10 plays conventional standard-definition DVDs (with automatic 1080p up-conversion) and conventional CDs.
Other key features of the DMP-BD10 include proprietary P4HD technology for performing IP conversion at the pixel level for ultra-fine details, a 297MHz 14bit Video D/A Converter with 4X oversampling, video noise shaping that improves signal-to-noise ratios by shifting noise to an unused band, and theoretical support for nearly 4400 billion colors. The DMP-BD10 will also feature new audio codecs, such as Dolby True HD and DTS™ HD. A firmware upgrade is required for compatibility with these audio codec."
The initial product in what is planned as a full array of Blu-ray player, camcorders and other home entertainment products, the DMP-BD10 also incorporates Panasonic's proprietary EZ-Sync system for integrated one-touch operation of Panasonic home-theater components, Dolby Digital Plus, Dolby Digital and dts decoding, and BD-J (Java application) interactive capability. The compatibility between the DMP-BD10 and the High Definition camcorder (HDC-DX1), via the AVCHD (H.264) codec, is a prime example of Panasonic's dedication to the high definition digital lifestyle.
The DMP-BD10 will be available this summer and will retail for about $1299
Information about Panasonic products is available at www.panasonic.com.