Nikko R2-D2 LCOS DVD Projector M10
Nikko R2-D2 LCOS DVD Projector M10
Filed under: Projectors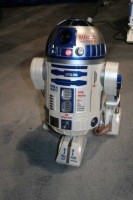 Billed as "The New Force in Projectors" this new product from Nikko is not nearly as cheesy as it's slogan. In fact, it's freakin' cool. We got wind of this booth walking through the South Hall when we spotted a fully outfitted Darth Vader and Stormtrooper. I don't care who you are, when a 6-foot-four Sith Lord stands in your path you stop. And Listen. Of course he didn't need to say anything because we saw IT. A 1/2 scale, fully-functional R2-D2. This wasn't just a model, however. It moved. You controlled it via wireless remote - shaped like a Millenium Falcon. It goes forward and backwards, can turn 360 degrees and can even tilt all the way back. It's head even swivels realistically independent of the body.
Oh, but that's not all.
Here's what else it has on-board:
LCOS projector capable of projecting onto an 80-inch screen at 16.4 feet (4:3)
DVD player (480p)
iPod docking station
Memory card slot and USB 2.0 connector
Built in 20 watt stereo speaker system
R2-D2 sound effects
FM wireless audio to broadcast onto any FM stereo system
Built in electric tazer system (just kidding)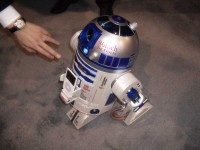 Connections include:
VGA input
s-video, composite inputs and composite outputs
stereo audio inputs and outputs
optical digital audio output
And some key specs not covered above:
Resolution: 800x600
1200 ANSI lumens
Contrast ratio: 500:1
Dimensions: 13.5" W x 13" D x 20.5" H
Weight: 17.6 pounds
7.2V NiCD battery (yech!)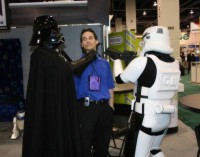 MSRP is just $2499 for the M10 projector and while this isn't the most advanced projector on the market by a long shot, it is quite possibly the most innovative and enticing centerpiece I've seen in a long time.
What's the motto here? Simple, if you're walking a convention and see some threatening members of the Imperial Empire - it might be a good idea to stop and have a look, you just might see something interesting.
For more information, please visit www.nikkoR2D2.com .