NAD T975 and T955 Amplifiers
NAD T975 and T955 Amplifiers
Filed under: Amplifiers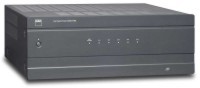 NAD unveiled two new power amplifiers, the T 975 Seven Channel Amplifier and the T 955 Five Channel Amplifier during CES 2007 this week in Las Vegas.
Both amplifiers employ monoblock construction and incorporate NADs PowerDrive circuitry which automatically senses a loudspeaker's impedance characteristics and adjusts its power supply settings to best cope with that specific load. The T 975 provides 140wpc of continuous power with all seven (7) channels driven simultaneously. The T 955 delivers 100wpc of continuous power with all five (5) channels driven simultaneously and is an alternative when seven speakers are either not desired or modest space limitations precludes this option.
NAD's output power ratings are spec'ed with all channels driven simultaneously, at full bandwidth of 20Hz to 20kHz, at rated distortion (0.08% THD) at 8 and 4 ohms.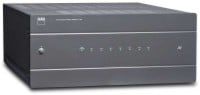 The T975 uses a unique variable speed fan cooling system that was first introduced on the M25 Masters Series amplifier. This allows the T975 to deliver massive amounts of power for hours on end. Many amps thermally protect and cycle the internal fan on and off. While a well-designed forced air system can eliminate thermal cycling, it is also crucial to keep the noise of the cooling fan from being heard - especially during quiet passages of the movie or music. To this end, NAD has developed a unique circuit that measures not only the temperature of the heat sinks, but also the level of the input signal to ensure that the fan is silent during quiet passages.
Due to its modular design, each element of the individual channel circuitry in the T975 and the T955, save the power supply, is fully independent with active ground isolation, eliminating inter-channel influences. The power supply used in both amplifiers was carefully designed using NAD's exclusive "Holmgren" transformer with "a special core and materials" said to enhance efficiency and make the transformer less sensitive to DC offsets on the AC mains voltage. Each channel has individual over current, DC, infrasonic and ultrasonic overload sensing and protection.
Individual gain adjustments for each channel is found on the rear panel of both amplifiers and promotes easy, accurate system configuration, as does the integral 12V trigger turn-on response. Both the T975 and the T955 utilize a combination of fuse and electronic non-intrusive protection.
The T975 Five-Channel Amplifier and the T955 Five-Channel Amplifier are now shipping for US MSRP of $2499 and $1499, respectively.
For more information please visit www.nadelectronics.com .