LG HD Blu-ray Player
Filed under: DVD/HD-DVD Players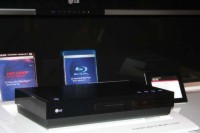 So here it is, the event you have all been waiting for...
At CES in Las Vegas, LG launched the industries first dual format high definition disc player. The player offers the convenience of playing both Blu-ray Disc and HD DVD high-definition content. LG Electronics (LG), says that the groundbreaking "Super Multi Blue" player will be released during the first quarter of 2007. This advanced dual-format high-definition disc player, LG model BH100, will be the first player on the market with the capability to play both next-generation disc formats, addressing the challenge of the current format war.
In addition to offering Full HD 1080p picture quality from high-definition discs, the player incorporates interactive functions based on BD-Java, which allows advanced menus and functions to be displayed over the video of Blu-ray discs. And, while the same level of advanced menu interactivity is not available while playing HD DVD discs, the powerful combination of Blu-ray Disc and HD DVD audio-video playback technologies is like no other on the market.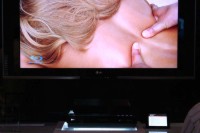 The unit supports various A/V formats, including MPEG-2, VC-1, H.264 video, MPEG1/2 audio, Dolby Digital, Dolby Digital+, DTS and DTS-HD audio, and includes multiple inputs/outputs such as HDMI out, component/composite video outputs, and optical/coaxial/discrete 5.1 channel audio outputs, among others.
LG's Super Multi Blue Player (BH100), will be available during the first quarter of 2007, is expected to sell for about U.S. $1,199.
For more information please visit www.lge.com .