LG 71-Inch Full HD Plasma Display
LG 71-Inch Full HD Plasma Display
Filed under: Televisions & Displays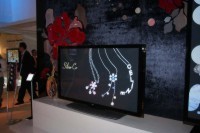 We visited LG today at CES to look at their Plasma displays. LG Electronics (LG) unveiled its 2007 lineup of plasma display panel (PDP) innovations - including their new 1080p "Full HD" models and its flagship 71-inch plasma, which has been repositioned at an aggressive new suggested retail price.
The new plasma displays incorporate technologies like Clear Filter Pro, Simple Link and built-in high-definition digital video recorders - that significantly improve contrast, reduce reflections and optimize playability. New connectivity technologies and stylish designs complement the LG plasmas' clear and easy-to-use viewing experience for consumers.
LG repositioned the price on its flagship 71-inch Plasma Full HD Monitor (71PY1M), one of the largest plasmas available for consumer purchase. The new price of $14,999.95 is an amazing 80 percent decrease from the unit's introduction price in early 2006 bringing the price down to only 5 times the cost of a good projector and screen.
For more information please visit www.lge.com.