iSound Concert To Go
Filed under: HTiB/Mini Systems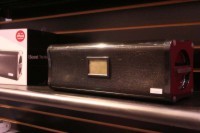 With hundreds of iPod docking stations available here at CES it was hard sifting through what was hot and what was not. For the second consecutive year, dreamGEAR has been spotlighted for the innovation and design of their i.Sound line. This year, the latest addition to their line of speakers and accessories was the i.Sound Concert to Go. The iSound Concert to Go was selected as a 2007 International CES Innovations Design and Engineering Showcase honoree in the Audio Accessories category. Endorsed by the Industrial Design Society of America, the Innovations Awards recognize the best in consumer electronics and set the bar for new products.
The iConcert includes a built-in AM/FM radio and alarm clock, the i.Sound Concert to Go also has a wake-me-to-music alarm function, which allows users to set the alarm to music from their iPod. The iSound Concert to also comes with treble and bass adjustments, a wireless remote and 36 watts of pure power. A convenient handle also turns the i.Sound Concert to Go into a modern day boom box, taking your music with you.
The i.Sound Concert to Go charges and syncs all iPod docking models, has a Video output and has a suggested retail price of $149.99.
Products in the i.Sound speaker line are compatible with all iPod models, the Zune, the PSP, as well as Sandisk's and all other MP3 players, CD players or other audio devices with a standard headphone jack. .
For more information on dreamGEAR or i.Sound, please visit www.dreamGEAR.net or www.iSound.net.