Atlantic Home Gaming Center GK1000
Atlantic Home Gaming Center GK1000
Filed under: Miscellaneous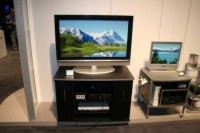 As an active water sports enthusiast, I couldn't help but notice Atlantics waterproof accessories for ipods. The waterproof case comes with 2 speakers and room for either an ipod nano or ipod mini and retails for about $199.99.
While looking at Atlantics products geared towards gamers I also came across some attractive display stands. The GK1000 Home Gaming Center is laid out in a functional, but visually appealing manner to satisfy even die hard gamers. The unit c an hold up to three gaming consoles at the same time. Plenty of room for an
Xbox 360, Playstation 3, and a WII. Another bonus of the console is Atlantics "Revolutionary Wire Management System" which hides all wires and cables neatly behind the system. Built-in Ventilation optimizes console heat dissipation and two uniquely designed pull-out drawers maximize storage space. The pull-out drawers house your controllers while they're plugged in without ripping them out of the console.
For more than 20 years, Atlantic Inc. has designed and manufactured innovative and award winning Consumer Electronic accessory products that embody the company's philosophy of providing products that are the state of the art in organized living. Atlantic has responded to the demand for fashionable and affordable solutions to storage with attractive and innovative products designed to meet ever changing consumer needs. Atlantic has the reputation of being the category leader in home media storage as well as being the category creator of new storage concepts.
Based in Santa Fe Springs, Calif., the company designs its attractive and durable products in sleek contemporary colors and materials, offering a variety of storage solutions for use at home and on the go. Presenting consumers with lifestyle solutions for multi-media, gaming and electronic component storage, Atlantic's aesthetically pleasing products have universal appeal and functionality.
The company and its designs have received numerous patents and awards, including twelve Design & Engineering Showcase Honors from the annual Consumer Electronics Show (CES) Innovations Committee. In a poll of over 150 National Retailers, Atlantic was also recognized with the SPARC Award as Best Vendor in Consumer Electronic Accessories for its service, innovation and overall programs that best serve America's leading retailers. For more information on Atlantic or its products, please visit the company's Web site at www.atlantic-inc.com.
Atlantic, Inc
10018 Santa Fe Springs Rd
P.O Box 2399
Santa Fe Springs, CA 90670-2399