APC C2 and C3 Power Filters
APC C2 and C3 Power Filters
Filed under: Miscellaneous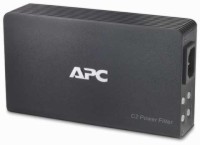 American Power Conversion (APC) introduced their C2 Power Filter that delivers surge protection and isolated noise filtering to wall mounted displays. Ideal for the home audio/video market, the C2 Power Filter features two surge-protected outlets, LED status indicators, and a slim profile, allowing consumers to install the device directly behind a wall mounted television.
APC AV C2 Power Filter

APC AV's C2 Power Filter is designed to protect valuable home theater equipment from damaging surges and spikes caused by power anomalies such as lightning. Additionally, isolated input and output noise filter banks help eliminate electromagnetic and radio frequency interference (EMI/RFI) as a source of audio/video signal degradation. The LED status indicators on the C2 Power Filter provide proactive notification of changing power conditions including filtering, protection, overload, and wiring faults. A detachable two-foot power cord makes installation easier and provides flexibility to the user or installer, giving them the option to switch to a longer cord (sold separately) for particular installations.
APC AV C3 Power Filter


APC designed the C3 Power Filter specifically for AV environments. It provides eight surge-protected and filtered outlets to ensure protection for all AV components. The unit also offers EMI/RFI noise filtering banks for digital, and high-current (amplifier, subwoofer) devices. Each bank is isolated to prevent noise from polluting other connected devices and it offers "best in class" surge protection with a less than 85 Volt let-through rating.
The C3 provides Gold Coax connections and phone jack surge protection that offer an additional safeguard for incoming signals on the dataline. Featuring an attractive and bold chassis in silver or black, the C3 uses high quality construction and materials that will complement any high performance AV system. The C3 carries safety certification from UL, FCC, and CSA. All of APC AV's C Type Power Filters including the new C3, offer an Equipment Protection Policy (EPP).
Available in the fourth quarter 2006 (first quarter 2007 for the C3), the C2 and C3 Power Filters come with an Equipment Protection Policy for connected equipment (the C2 carries a $350,000 warranty and the C3 carries a $150,000 warranty) and both units each carry an estimated resale price of $99.99.
For more information please call 800-877-4080, or visit APC's Web site at www.apcav.com.