Algolith Digital Video Processors
Algolith Digital Video Processors
Filed under: Audio & Video Processors

Algolith once again showcased its family of digital video processors and enhancers, the Dragonfly, the Mosquito and the Flea, plus a new Serial RS-232 Option.
The Dragonfly Home Theater Processor/Scaler

The Dragonfly will up- or downscale, de-interlace and cadence-correct all video signals from 480i to 1080p. A Realta HQV Video Engine by Silicon Optix makes it ideal for use with Standard Definition DVDs, Satellite TV, and digital cable signals.
The Dragonfly combines several features to do its job, including True 1080i to 1080p De-Interlacing, which uses the full four-field processing window for HD video de-interlacing and cadence detection instead of discarding half the resolution of HD images as do many on-board image processors.

A true 10-bit diagonal interpolator removes jaggies and stair-stepping artifacts from de-interlaced video sources without blurring the image. A unique Noise Reduction capability, available as an option, reduces the analogue and MPEG noise artifacts that plague DVD and broadcast sources. A fully automatic adaptive software algorithm adds a fourth dimension of pixel-by-pixel noise and motion measurement.
Dragonfly's detail enhancement improves the image detail on a pixel-by-pixel basis, delivering SD quality that "approaches HD", while Automatic Film Mode Cadence Processing significantly improves the handling of film and video sources. Automatic Per Pixel Video/Film Detection lets the Dragonfly make pixel-level decisions when processing film pixels as film and video pixels as video - rather than frame-level decisions, which can lead to visible artifacts (you'll observe this when you look at the final two tests in the HQV benchmark disc which combine video overlays and 3-2 pull-down film content).
An onboard USB interface allows Dragonfly software to be fully upgraded and re-programmed via the Web. In addition to the Noise Reduction Option, the Dragonfly can be equipped with an SDI Option that allows users to pass 480i and 576i signals through to the Dragonfly's digital input.
The Dragonfly, which includes a remote control, is available now from authorized Algolith dealers at a suggested price of $2,995, with the Noise Reduction and SDI Input options available at an additional $495 each.
The Mosquito Home Theater Video Enhancer
The Mosquito reduces image noise on digital and HD video signals. Big-screen HD images don't look as good as they should due to the compression of video signals by TV broadcasters and DVD makers. The larger the screen, the more noticeable the video artifacts. Operating in real time, the Mosquito filters and reduces video imperfections without losing detail for exceptionally sharp, noise-free images.
The Mosquito includes HDMI and a new edition, Version 2.0, of Algolith's software core, a major performance update that renders the Mosquito both more efficient and effective, and improves its ability to address blocking artifacts in highly compressed images.
The Mosquito is available now from authorized Algolith dealers at a suggested price of $2,995.
The Flea Digital Video Enhancer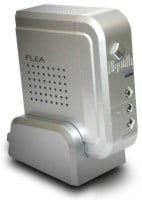 The Flea is an unobtrusive, addition for Home Theater enthusiasts that improves the picture quality of compressed Standard Definition and High Definition images. Weighing less than one pound and equal in size to a paperback novel, the new Flea upgrades Algolith's groundbreaking original Flea by the addition of an HDMI input that permits the Flea to transmit and process uncompressed digital video signals from an HDMI-compatible source component to an HDMI-compatible display. It also includes the new edition, Version 2.0, of Algolith's software core.
The Flea reduces noise and artifacts introduced by compressed digital video signals from such sources as DVDs, satellites, digital cable, PVRs and Home Theater PCs. It is especially efficient when used with new large-screen digital displays and projectors that magnify image artifacts, and delivers exceptionally sharp, noise-free pictures.
The Flea is available now from authorized Algolith dealers at a suggested retail price of $995.
The Serial Option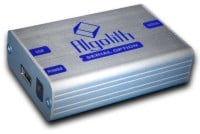 The Serial Option is a small accessory module that allows the Mosquito and Flea to be controlled by Home Automation systems like those produced by Crestron, AMX and other manufacturers. The Serial Option module includes a Serial, or RS-232, connection, a USB port, and a power input. The Serial Option provides bi-directional communication between the unit and a Home Automation system, which is vital for large systems that are required to monitor and poll its components.
Use of the Serial Option is completely transparent to the performance of both the Mosquito and Flea, and enables installers to seamlessly integrate them into the control or automation routines of sophisticated home entertainment systems.
The Serial Option is available now from authorized Algolith dealers at a suggested retail price of $495 (We've determined that pretty much any option or add-on at Algolith costs around $495 - Note to installers: don't order any extra cables!)
For further technical information, visit www.algolith.com .