ABT2010 SD/HD Video Processor
ABT2010 SD/HD Video Processor
Filed under: Audio & Video Processors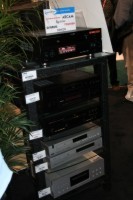 Anchor Bay announced a Q2 estimated shipment for its new second-generation ABT2010 IC chips. These are Anchor Bay's latest video-processing ICs designed for format conversion applications in HDTVs, DVD, HD-DVD, Blu-ray Disc players, and AV receivers. This is ABT's first chip to offer Progressive Re-Processing (PReP) technology to its OEMs.
This new ABT2010 chip offers all of the processing power of Anchor Bay's VRS technology, including:
10-bit Precision Video Scaling II
Can independently scale an image horizontally and vertically to match the native resolution of a display
HD Precision Deinterlacing
Provides 5-field motion-adaptive and edge-adaptive processing for an artifact-free picture
Noise reduction, including mosquito and block noise
PReP (Progressive Re-Processing) technology
Reverts progressive signals back to their original interlaced formats and then applies correct deinterlacing
The ABT2010 also supports HDMI 1.3 with 12-bit output resolutions.
Features
Supports 480i/576i/1080i-50, 1080i-50, 1080i-60
Arbitrary cadence detection (any-to-any) to detect non-standard cadences
Five-field motion adaptive deinterlacing
Edge-adaptive processing to produce smooth diagonal edges
Three-frame video processing with low-latency gaming modes
Reliable 2:2 pull-down detection for 50-Hz video standards
Bad edit detection to minimize artifacts caused by sequence breaks in film content
Detection of multiple source type within a frame (video titles over film)
Detection of 2:2 to/from 3:2 crossfades and out of phase 3:2 crossfades
Detection modes - automatic, video, film-bias, forced 3:2 and 2:2
Cadence detection of 480p, 576p, 720p, and 1080p sources
Pass-through mode for all formats
CEA-861D compliant timing
On-screen display
For more information please visit www.anchorbaytech.com .