Yamaha RX-Z11 AV Receiver
Yamaha RX-Z11 AV Receiver
Filed under: A/V Receivers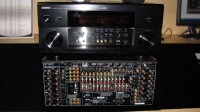 Yamaha RX-Z11
Yamaha announced the introduction of its flagship 11.2 channel digital AV receiver at CEDIA today. The RX-Z11 offers multi-zone options for high end home entertainment installations.
The new RX-Z11supports the latest HD Audio Surround formats such as Dolby TrueHD and DTS-HD Master Audio, 30/36bit Deep Color, xvYCC, 120 and 24Hz refresh rates and Auto Lip-sync. The RX-Z11 features 5 HDMI inputs – including one on the front panel – and two HDMI outputs, as well as analog to HDMI 1080p upscaling and HDMI Audio upconversion.
The RX-Z11's network capabilities (including Windows Vista OS [WMP 11] and Microsoft PlaysForSure support) greatly increases the number of entertainment sources beyond the norm, including the playback of music (MP3, WMA, WAV and AAC files) stored on a PC or NAS drive with media server functionality and Internet radio with MP3 support. The RX-Z11 can also act as a remote client to Yamaha's premiere MusicCAST music distribution system, such as MCX-2000.
A USB interface, which adheres to the Media Transfer Protocol (MTP), provides two USB inputs (one front, one rear) for playback of MP3, WMA, WAV and AAC audio files from a portable player or USB drive. The rear USB port offers easy connectivity to an external HDD drive.
Yamaha's Digital ToP-ART circuitry isolates the digital, analog and video sections of the RX-Z11 and provides the shortest and most efficient signal routes for each. High Current Amplification circuitry achieves high current power with low impedance for superior amplifier performance.
The RX-Z11 utilizes current feedback amplification, which requires less phase compensation and protects the audio signal from being adulterated, as opposed to the voltage feedback method, which is commonly employed by most other amplifiers. The RX-Z11's high-end circuitry keeps the frequency response consistent, even when the gain fluctuates.
The RX-Z11 integrates HD Radio technology, which enables listeners to enjoy many additional options for free, enhanced-quality audio over the airwaves. Utilizing HD Radio, FM signals are elevated to CD-quality audio, while AM station signals sound more like FM radio, virtually eliminating any static or hiss. The receiver also displays HD Radio's transmission of content information, such as song titles, artist names and much more. Currently, more than 1,000 U.S. radio stations are broadcasting HD Radio content.
Yamaha's updated YPAO Sound Optimization system automatically analyzes the acoustics of the room and adjusts various speaker parameters to provide optimum sound quality at the listening position, including multi-point measurement (up to eight points) support and standing-wave reduction EQ, speaker layout measurement with included microphone base and the YPAO Easy Starter for instant system integration.
The RX-Z11 System Memory feature enables users to set up to 10 listening settings for the main zone, and four for each additional zone, for such variables as speaker configuration, YPAO automatic system calibration setup, HiFi and home theater listening, HDMI and overall zone.
The RX-Z11 connects easily to Apple iPods via an optional iPod docking station (Yamaha YDS-10; SRP $99.95). Once docked, the iPod can be operated (song selection, play, etc.) via the receiver's remote control. A one cable connection enables users to view the iPod's video, pictures and operating status (song title, artist, etc.) on a television monitor. In addition, the Yamaha YDS-10 will automatically charge the iPod so it's always ready for a road trip. The RX-Z11 is also XM satellite radio ready with XM HD Surround. Yamaha's updated proprietary Compressed Music Enhancer technology, which compensates for the lost detail of audio that is compressed during the "ripping" process, now processes multi-channel signals so all channels (rather than just two) are independently enhanced.
The RX-Z11 utilizes an intuitive on-screen GUI for navigating through menus and content from each source.
The RX-Z11's features a pre-amplifier mode that can disable the power amplifier circuitry and allow the internal pre-amp to be paired with an external, ultra high-end power amplifier, where the main zone pre-out passes a full 11.2 channels of audio, complete with the RX-Z11's full range of decoding, DSP and speaker configuration output.

Here is a sample of a few possible RX-Z11 custom installation scenarios:
· 11.2 channels in the main home theater/music room
· 11.2 channels in the main room with two additional fronts bi-wired
· 9.2 channels in the main room with the fronts bi-amped
· 7.2 channels in the main room, four channels in the second room and two channels in the third room using Intelligent Assign
· 7.2 channels in the main room, two channels in the second room, two channels in the third room and two channels in a fourth room using Intelligent Assign
· 5.2 channels in the main room, two channels in the second room, two channels in the third room and two channels in a fourth room
· 5.2 channels in the main room with the fronts bi-amped, two channels in the second room and two channels in the third room
Yamaha expanded the custom control capability of the RX-Z11 over a network so it now supports the Web Browser Control on a PC or PDA — or even a smart phone in the future — as well as on a touch-pad controller for local area or home networks. Users can also view a variety of information for iPods, XM or HD Radio via the Meta Data Display on the browser. This greatly extends the operational capabilities to easily control the many applications the unit makes available. For professional installers, the RX-Z11's Receiver Manager allows users to maintain full control of the unit via a well-organized interface on a PC. It also now uses the Ethernet connection offering higher speed operation than the RS-232C control.

The RX-Z11, which will ship in November(140W x 7 + 50W x 4: $5,499.95 MSRP).
For more information visit www.yamaha.com/home.
About Yamaha
Yamaha Electronics Corporation (YEC), USA, based in Buena Park, California, is a wholly owned subsidiary of Yamaha Corporation of America. YEC offers industry-leading home theater components and systems, featuring A/V receivers, amplifiers, DVD/CD players, speakers, mini-systems, home-theater-in-a-box (HTiB)pre-matched systems and the company's exclusive Digital Sound Projectors (single component surround sound solutions), as well as A/V & IT convergence products.