Yamaha RX-V3800 Receiver
Filed under: A/V Receivers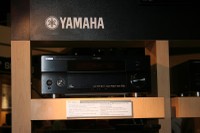 Yamaha RX-V3800 Receiver
Yamaha Electronics Corporation introduced its best-in-class 7.1 channel A/V digital home theater receiver, the RX-V3800. Offering unsurpassed home theater audio and video realism, the RX-V3800 features full HD audio format capability, including lossless Dolby TrueHD and DTS-HD Master Audio surround sound, Yamaha's acclaimed Cinema DSP processing engine, video upscaling to 1080p, and support of the latest HDMI 1.3a specification. The RX-V3800 is compatible with the Apple iPod, via an optional docking station (YDS-10), and allows playback of XM Satellite Radio's standard and XM HD Surround content.

The RX-V3800 features an Ethernet connection, enabling consumers to access Internet radio stations, music files stored on a PC and the company's premier MusicCAST audio system server (MCX-2000), providing access to as many as 40,000 songs that can be stored on that system. Offering seamless integration with any sources connected by the Ethernet port, as well as with an iPod and XM Satellite Radio, the RX-V3800 enables users to navigate their content via well-designed graphical user interfaces that are optimized for display on HDTV monitors.
The RX-V3800 offers full support of HD audio format signals including Dolby Digital Plus, Dolby TrueHD, DTS-HD High Resolution Audio and DTS-HD Master Audio, as well as surround sound processing with the enhanced capability of Yamaha's exclusive Cinema DSP. Content with 5.1-channel audio is augmented by two front "presence" channels that expand the sound field upward and outward. The RX-V3800 features 3D Cinema DSP which gives the sound field an extra vertical dimension for more realistic sound images via the two front presence speakers.
The RX-V3800 supports the latest HDMI standard, HDMI 1.3a, unleashing the stunning quality of 30- and 36-bit color depths. Colors are so vivid they seem to jump off the screen with perfectly smooth transitions and ultra-fine gradations. Both receivers have four HDMI inputs, allowing users to connect a variety of high-definition sources such as Blu-ray and HD-DVD players.
Analog video sources are upconverted, enabling their signal to be routed to a connected HDTV through the HDMI output cable. What's more, the RX-V3800 harnesses Anchor Bay Technology's ABT1010 chip to provide video upscaling from 480i or 480p, to resolutions up to 1080p. As a result, users have a true high-definition experience even when viewing sources such as DVDs. A 120Hz refresh rate is supported to accommodate new, reduced flicker LCD TVs. Moreover, 1080p/24Hz compatibility provides optimal performance with Blu-ray Discs and compliant displays. Auto Lip-Sync Compensation prevents sync issues sometimes associated with transmitting video and audio via HDMI.
Additional features for high quality audio performance include Yamaha's Digital ToP-ART design which simplifies the signal path and eliminates noise sources to ensure superior audio and video performance. Activating the receivers' Pure Direct functionality protects the signal additionally by further shortening its path, bypassing all DSP circuitry and cutting power to non-essential functions such as the front-panel display. High Current Technology allows the amplifier to drive all types of speakers with pure, robust sound. Also included are discrete low-noise power supplies, Burr-Brown 192kHz/24bit DACs, large arch-shaped heat sinks, low jitter PLL circuitry for SPIDF signals, and all-new, ultra-rigid vibration damping chassis design.
The RX-V3800connects easily to Apple iPods via an optional iPod docking station (Yamaha YDS-10; SRP $99.95). Once docked, the iPod can be operated (song selection, play, etc.) via the receiver's remote controls. A one cable connection allows users to view the iPod's video, pictures and operating status (song title, artist, etc.) on a television monitor. In addition, docked iPods are automatically charged so they're always ready for a road trip. The RX-V3800 also has a front panel USB port to for quick and easy connections of other portable audio devices.
Playback of XM HD Surround from XM Satellite Radio, which delivers audio programming in full 5.1 channel surround sound (XM Ch. 76 and 113), as well as content from the company's 160-plus standard service channels, is achieved via an optional service subscription and XM Mini Tuner. Neural Surround™ technology enhances the experience of XM HD Surround, delivering a detailed sound stage with superior 5.1 channel separation. Yamaha's Compressed Music Enhancer technology compensates for the lost detail of audio that is compressed during the "ripping" process, recapturing the essence of the original recording.
The Yamaha Parametric Room Acoustic Optimizer (YPAO) simplifies the home theater setup process by automatically analyzing room acoustics and setting parameters for optimum sound quality at the touch of a button.
The RX-V3800 offers flexible system configuration options, as the 7.1 channels can be used to create an immersive surround sound environment in a single room, or the seven internal power amplifiers can be allocated to a main room and up to two additional zones. The RX-V3800 offers the extra capability of outputting video to a second zone simultaneously with the main room. A dedicated zone remote and RS-232C interface allow the receiver to be easily integrated into custom installations.
MSRP $1699.95
For more information visit www.yamaha.com/home.
About Yamaha
Yamaha Electronics Corporation (YEC), USA, based in Buena Park, California, is a wholly owned subsidiary of Yamaha Corporation of America. YEC offers industry-leading home theater components and systems, featuring A/V receivers, amplifiers, DVD/CD players, speakers, mini-systems, home-theater-in-a-box (HTiB)pre-matched systems and the company's exclusive Digital Sound Projectors (single component surround sound solutions), as well as A/V & IT convergence products.