Yamaha DVD-S1800 Universal DVD Player
Yamaha DVD-S1800 Universal DVD Player
Filed under: DVD/HD-DVD Players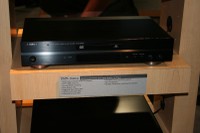 Yamaha DVD-S1800
Yamaha introduced the DVD-S1800 universal DVD player today at CEDIA in Denver.  The S1800 features a host of advanced features and capabilities designed to maximize the performance of high-end home theater installations. Ideal for those who demand the ultimate in video and audio realism, the DVD-S1800 not only offers 1080p video output via HDMI, but also support DVD-Audio and Super Audio CD playback.
In addition to upconverting video to 1080p, the unit can also output 480p, 576p, 720p and 1080i signals, all over a pure digital HDMI connection. To ensure the highest possible video quality even through its analog outputs, the S1800 also features a 216MHz/12-bit high-performance video DAC. Noise Shaped Video technology from Analog Devices uses oversampling and sophisticated techniques such as multi-bit sigma-delta processing and bit-shuffling to relocate converter noise to a part of the spectrum where it can be removed by an analog filter. This improves signal accuracy, allowing signals to be displayed at much higher resolutions.
For optimal viewing of native 4:3 images on widescreen 16:9 sets, the DVD-S1800 has a standard Pillar Box mode, as well as a Non-Linear Stretch option, which enlarges a 4:3 picture with minimum distortion by trimming the top and bottom to make it more like a 16:9 picture. The DVD-S1800 also offers progressive scanning of both NTSC and PAL signals to provide a smooth, film-like image. The DVD-S1800 offers Faroudja DCDi processing, Motion Adaptive Noise Reduction, Cross Color Suppression and TrueLife Enhancer.
The DVD-S1800 is replete with audiophile features. Compatible with both DVD-Audio and Super Audio CD, the unit enables listeners to experience the most realistic and lifelike multi-channel audio available. The DVD-S1800 has four two-channel Burr Brown 192kHz/24-bit DACs for the stereo and 5.1-channel output sections to provide absolute sonic transparency.
The DVD-S1800 integrates bass management processing to ensure proper routing of bass frequencies for ideal DVD-Audio and Super Audio CD performance via multi-speaker home theater systems. For regular two-channel stereo CDs, bass frequencies are routed to the subwoofer, so users can enjoy "2.1-channel" sound with more powerful bass.
To accommodate a wide range of personal media collections, the DVD-S1800 is capable of playing compressed formats including MP3 and WMA audio files, JPEG image files and DivX video files. The unit's streamlined and intuitive GUI makes it quick and easy to navigate all types of media.
The DVD-S1800 will be available in August for a suggested retail price of $449.95
For more information visit www.yamaha.com/home.
About Yamaha
Yamaha Electronics Corporation (YEC), USA, based in Buena Park, California, is a wholly owned subsidiary of Yamaha. YEC offers Home Theater components and systems, featuring A/V Receivers, Amplifiers, DVD/CD, Speakers, Mini-Systems, Video Projection, as well as A/V & IT Convergence Products.