Toshiba Regza 40" & 46" LCD HDTV
Toshiba Regza 40" & 46" LCD HDTV
Filed under: Televisions & Displays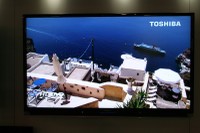 Toshiba Regza
At the CEDIA show today, Toshiba America Consumer Products, L.L.C. announced two additions to its premium REGZA LCD HDTV line, the 40RF350U and 46RF350U. The new 1080p Full HD models feature the latest high quality video and audio features offered by Toshiba and the "World's Thinnest LCD TV Bezel" measuring less than 1" wide, offering more screen in less space. These new REGZA Super Narrow Bezel (SNB) models will be available in 40" and 46" diagonally measured screen sizes.

In addition to sporting a beautifully redesigned slimmer frame in high-gloss black with chrome trim, the new 40" and 46" diagonally measured SNB models offer advanced REGZA technology to produce clear, vibrant, lifelike images worthy of the new design.

SNB models feature new 10 Bit LCD Panels for a richer and more accurate picture with 64 times the colors of an 8 Bit Panel. To further enhance picture quality, these models also feature xvYCC signal support to accept 1.8x more colors than standard HD signals. When combined with Toshiba's PixelPure 3G 14 Bit internal Digital Video Processing with 4,096 levels of gradation, DynaLight dynamic backlight for deeper blacks, and ColorBurst wide color gamut CCFL for enhanced color rendition, the result is nothing short of spectacular.

Complete connectivity includes 3 HDMI digital inputs, all with CE-Link HDMI-CEC control for optimum ease-of-use. For PC Gamers, SNB models also feature a PC input capable of high-resolution WXGA and SXGA display.

For more information visit http://www.regza.com.

Expected Pricing and Availability
REGZA Super Narrow Bezel Models
40RF350U ($1,899.99, September 2007)
46RF350U ($2,499.99, September 2007)

About Toshiba America Consumer Products, L.L.C.
Toshiba America Consumer Products, L.L.C. is owned by Toshiba America, Inc., a subsidiary of Toshiba Corporation, a world leader in high technology products with subsidiaries worldwide. Toshiba is a pioneer in HD DVD, DVD and DVD Recorder technology and a leading manufacturer of a full line of home entertainment products, including flat panel TV, combination products and portable devices. Toshiba America Consumer Products, L.L.C. is headquartered in Wayne, New Jersey. For additional information please visit http://www.tacp.toshiba.com.