Toshiba 3rd Generation HD DVD Players
Toshiba 3rd Generation HD DVD Players
Filed under: DVD/HD-DVD Players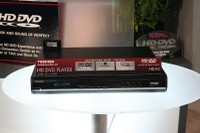 Toshiba HD-A3
Toshiba America Consumer Products, L.L.C. revealed its third generation HD DVD players at the CEDIA show today rolling out its most advanced, affordable line of HD DVD players with outstanding functionalities and Web-enabled network capabilities of the HD DVD format. Gearing up for the new line to hit shelves this fall,

Toshiba's third generation family starts with the entry level HD-A3 player featuring 1080i output
capability. The other two new models, Toshiba's HD-A30 and HD-A35, will output 1080p resolution (1920 x 1080p), the highest HD signal currently available. Both models are capable of outputting signals at 1080p/24 frames per second so consumers can enjoy movies in their native frame rate. The HD-A30 and HD-A35 models also feature "CE-Link" (HDMI-CEC), allowing two-way control between the HD DVD player and a TV through an HDMI connection.

With a new slim design, Toshiba's third generation players have a cabinet that is approximately ¼-inch slimmer than second generation models. All of Toshiba's HD DVD models are backward compatible allowing users to enjoy their libraries of current DVDs and CDs while improving the picture quality of regular DVDs by upconverting them through an HDMI connection to near high definition quality.

Toshiba is committed to not only making its products consumer friendly, but friendly to the environment as well. Its products, including the third generation HD DVD players, meet Toshiba's ongoing efforts to bring eco-conscious products to market and comply with the company's strict environmental policies. Environmental management is promoted both from the standpoint of improving products themselves and renewing manufacturing processes, which not only calls for the elimination of the use of hazardous substances in products, but also to avoid using such substances in any manufacturing process.

For example, Toshiba HD DVD players are compliant with the EU RoHS Directive, a European Union environmental directive that prohibits or restricts the use of six hazardous substances, including lead, mercury and cadmium. Also, for energy conservation, all third generation players meet the Energy Star standard. Toshiba will place the Toshiba Group Earth Protection mark on its third generation players, packaging and promotional materials. The Toshiba Environmental Standard for granting the Toshiba Group Earth Protection mark will soon be available on Toshiba America Consumer Products, L.L.C.'s official website.

For more information visit: http://www.toshibahddvd.com.

Expected Pricing and Expected Availability:
HD-A3 ($299.99, October 2007)
HD-A30 ($399.99, September 2007)
HD-A35 ($499.99, October 2007)

About Toshiba America Consumer Products, L.L.C.
Toshiba America Consumer Products, L.L.C. is owned by Toshiba America, Inc., a subsidiary of Toshiba Corporation, a world leader in high technology products with subsidiaries worldwide. Toshiba is a pioneer in HD DVD, DVD and DVD Recorder technology and a leading manufacturer of a full line of home entertainment products, including flat panel TV, combination products and portable devices. Toshiba America Consumer Products, L.L.C. is headquartered in Wayne, New Jersey. For additional information, please visit http://www.tacp.toshiba.com.