Sanyo PLV-Z2000 Projector
Sanyo PLV-Z2000 Projector
Filed under: Projectors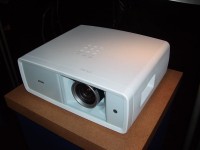 Sanyo PLV-Z2000 Projector
SANYO introduced the PLV-Z2000 1080p LCD projector during CEDIA EXPO this week in Denver, CO. The PLV-Z2000 features a new 3D color management system with a stated contrast ratio of 15,000:1, along with an advanced lens shifting function and an extremely quiet fan system. The PLV-Z2000 will be available in the U.S. in October 2007 with a MSRP of $2,995.99.

This is a full 1080p projector that handles 1080p/60 as well as 1080p/24 according to the reps at the Sanyo booth. A "Topaz Real HD technology" system has a 3D color management system that addresses changes in color phase and color level to obtain accurate color reproduction. The PLV- Z2000's color management system provides 1110 times more color combinations than SANYO's 720p PLV-Z5, a total of approximately 216 billion possible color combinations. This new color management system was designed to optimize the potential of Deep Color via the projectors two HDMI 1.3 inputs.

Rated at 1200 lumens, the PLV-Z2000 has a rated 15,000:1 contrast ratio for deep black levels. The PLV-Z2000 uses a Durable Inorganic Optical System (DIOS), which includes the projector's LCD panels and polarizing film.
The PLV-Z2000 is outfitted with a pretty sweet lens shift function. When coupled with the projector's short throw capability and 2x zoom, the PLV-Z2000 can create a large screen image in any size room and from virtually any location. The lens shifting function allows wide-range shifting up or down to three screen sizes and left to right to two screen sizes. The throw design of the PLV-Z2000, is capable of projecting a 100-inch diagonal image from 10 to 20 feet away, which makes it extremely suitable for small to mid-size home theaters.

The PLV-Z2000 is equipped with the "industry's quietest fan" (according to Sanyo), a large aperture, low noise Sirocco cooling fan that never rises above 19dB in the economy mode. This fan is quiet!

PLV-Z2000 Specifications

Contrast Ratio: 15,000:1
Brightness: 1200 lumens
Video Inputs: HDMI 1.3 x 2, Component x 2, D-sub 15pin, Composite (RCA), S-Video
Control Ports: Mini DIN 8-pin (RS-232)
Dimensions: 15.75 (W) x 5.75 (H) x 13.62 (D) inches (400 x 146 x 346 mm)
Weight: 16 lbs. (7.3 kg)
The PLV-Z2000 will be available in October and will sell for a U.S. MSRP of $2,995.99.

For more information please visit http://www.sanyoLCD.com