Pioneer Elite SC-09TX Receiver
Pioneer Elite SC-09TX Receiver
Filed under: A/V Receivers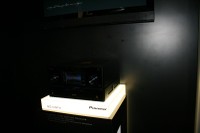 Pioneer Elite SC-09TX
Pioneer Electronics (USA) Inc. unveiled their new flagship A/V receiver, the Pioneer Elite SC-09TX; a sophisticated powerhouse that sets the benchmark for multi-channel sound in 1080p home theaters with pristine reproduction of emerging high resolution audio and high definition video formats.
The SC-09TX A/V receiver features a reengineered "direct energy high HD" amplifier that takes advantage of ICEpower analog class-D amplification coupled with Pioneer sound tuning technology. Reinforced with digital signal processing (DSP) capabilities, the receiver ensures maximum high resolution sound reproduction of new audio formats, Dolby TrueHD, Dolby Digital Plus and DTS-HD.
Pioneer outfitted the new receiver with enough connectivity options for an array of components as well as its room tuning function for surround sound performance in any room layout. It is one of the first A/V receivers to take advantage of new THX Loudness Plus, which preserves an original sound mix for an accurate listening experience.
Powerful Direct Energy HD Amplifier Pioneer developed the SC-09TX to deliver high resolution audio reproduction. Pioneer's Advanced Multi-Channel Acoustic Calibration (MCACC) is a precise room tuning function that ensures studio quality sound for an array of room configurations. With True One-Touch activation, the MCACC microphone
immediately begins optimizing the acoustics in a room, making subtle adjustments to the connected speakers, neutralizing the sound field of the primary listening area. With new Full Band Phase Control technology, the SC-09TX effectively eliminates "phase lag" caused by crossover networks inherent in loudspeakers ensuring audio arrives at the listening position in sync for a whole new level in accurate multi-channel sound reproduction.
The SC-09TX is the first A/V receiver to feature Sampling Rate Converter (SRC), a high quality process traditionally used in professional audio equipment for sound studios. SRC is a key audio scaler that oversamples all audio signals to 192 kHz creating accurate time information of a sound field for jitter-free playback.
The Pioneer SC-09TX A/V receiver delivers the full impact of lossless DTS-HD Master Audio, Dolby TrueHD and Dolby Digital Plus multi-channel audio formats via HDMI. The SC-09TX has an ultra rigid, separated construction for digital, analog, audio, and video sections and further insulates hand selected premium components with a dual chassis internal construction.
The Pioneer SC-09TX delivers an impressive home theater experience with the integration of Home Media Gallery, Pioneer's home networking function that allows users to select and playback personal digital media files direct from a PC hard drive for enjoyment in stunning high definition. Through the receiver, users can easily access and stream digital media files directly from their home PC or laptop computer with Home Media Gallery's IP networking capability. It is also compliant with Digital Living Network Alliance (DLNA), Window and Apple computers video, Windows Vista or Windows Media Connect as well as Microsoft playsforsure DRM technology.

The SC09-TX allows users to enjoy both SIRIUS and XM Satellite Radio, programming via dedicated connectivity to both a SiriusConnect SC-H1 tune and XM Connect & Play antenna (both sold separately; monthly subscription needed). Users can access and control each satellite radio devices with the unit's remote and large on-screen display capability. HD music can be enjoyed with XM HD Surround broadcasts powered by Neural Audio in 5.1 surround sound.
Users can navigate and select personalized music and video playlists from their iPod with the SC-09TX. The receiver also supports LPCM audio transmission, via an included cable. Owners can control their personal digital player with the receiver's remote control and on-screen display. Taking advantage of its audio heritage, Pioneer incorporated an improved Front Stage Surround Advance 2.1 channel surround sound feature as well as Advanced Sound Retriever to process and improve the playback of compressed audio files including MP3, WMA and iPod song lists to ensure a premium listening experience from the wide variety of new digital audio formats common to PC and internet entertainment sources.
The SC-09TX will begin shipping this winter for a suggested price of $7000.