Nuvo Essentia V.2
Filed under: Amplifiers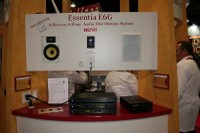 Nuvo Essentia
At CEDIA today Nuvo announced its Essentia E6GM line which delivers sound from up to six different sources, and to six different listening zones in the house. Essentia features Generation D design protocol-pure digital audio delivering energy conservation, lower heat generation, and clear, precise sound throughout your home.
NuVo systems come complete with all necessary components for installation, including keypads. All that's needed are speakers, wire, and audio source equipment.
Essentia's bidirectional RS232 port means it is completely controllable by home automation devices designed to control all aspects of the home.
Essentia V.2 Features
Six audio source inputs for multi-source capability, and up to six zones of music (expandable to twelve zones)
40 watts of power per zone for high-quality sound
Generation D digital amplifi er for cooler operation and higher power output
RS-232 serial port for home automation integration
Built-in infrared receiver that blocks adverse interference of plasma displays, sunlight, or fluorescent lighting
Fixed and variable line outputs for use with external higher power amplifiers when additional power is needed
NEW keypad with convenient front-end control for equalization settings, source grouping, master mode, and volume reset
NEW Learning Remote for control of up to six additional devices
The device will be ready to ship in Spring 2008 with an MSRP of $2200
For more information visit:  http://www.nuvotechnologies.com/essentia.htm#essentiaVII