NAD T175, T975, and T955 Amplifier
NAD T175, T975, and T955 Amplifier
Filed under: Amplifiers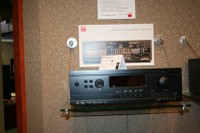 NAD T175 Preamplifier
NAD Electronics introduced a trio of new audio separates today at CEDIA in Denver. The T 175 Preamp-Tuner-Processor was displayed along with two multi-channel amplifiers, the Seven-Channel T 975 Power Amplifier and Five-Channel T 955 Power Amplifier.  
T 175 Preamp-Tuner-Processor·
A new modular layout that places key circuitry on five independent removable boards, making it easier to service.

Four HDMI v1.3 inputs that route HDMI signals with sufficient bandwidth to carry progressive-scan 1080p signals with unrestricted resolution.

Audyssey Auto Set-Up and Calibration, a DSP-based system that balances and adjusts a multi-channel speaker system using the small, calibrated microphone supplied with each pre-pro.

Audyssey's MultEQ XT Room Correction, which reduces the impact of room acoustics to yield a "family sized" sweet-spot and real gains in sonic accuracy.

Audyssey MultEQ XT Pro which, with the added processing power of a laptop computer, enables custom installers and system designers to obtain even more accurate, more extensive room corrections.

Aureus 7.1 Audio DSP from Texas Instruments for a complete palette of Dolby and DTS surround formats.

NAD's acclaimed EARS II digital surround mode, which produces impressively natural surround sound from two-channel recordings.

Top-level Burr Brown DACs, with a 24/96 converter for each of 8 channels.

A high-performance, 40-preset RDS FM/AM tuner — plus XM readiness, requiring only an affordable third-party XM Mini-Tuner module.

A Universal Portable Media Player input jack on the front panel, plus dedicated connectivity and control with Apple iPods via an optional NAD iPod dock.

Several installer-friendly enhancements including, three additional zones, all with independent source and volume; an RS-232 serial connection for integration with whole-house control systems; a broad range of 12-volt-trigger and IR-connection tools; and a simplified, second-zone remote.
T 975 and T 955 Power Amplifiers
Each contains an array of identical modularized single-channel amplifiers, fully independent beyond their common power supply, making them effectively "multi-monoblock" designs free from interchannel crosstalk and dynamic interaction..
Both also employ NAD's proprietary PowerDrive high-current design, which delivers maximum performance, independent of connected speakers. PowerDrive circuitry automatically adjusts power supply settings to best cope with a loudspeaker's impedance characteristics for dynamic, distortion-free performance.
The T 975 provides 140wpc of continuous power with all seven channels driven simultaneously. The T 955 delivers a tremendously powerful 100wpc of continuous power with all five channels driven simultaneously
Both amplifiers benefit from NAD's conservative philosophy in citing output power. Their ratings express the far stricter, more conservative Full Disclosure Power rating standard, with all channels driven simultaneously, at a full bandwidth range of 20Hz to 20kHz, and rated distortion (0.03% THD) at 8 and 4 ohms.
The T 975 uses a variable-speed fan-cooling system introduced on NAD's M25 Masters Series amplifier. This allows the T 975 to deliver massive power for hours on end, while staying both cool and silent. Except for the power supply, each element of the channel circuitry in the T 975 and T 955 is independent, eliminating inter-channel influences, as does their active ground isolation.
The power supplies in both amplifiers were designed using NAD's exclusive "Holmgren" transformer to enhance efficiency, making the transformer less sensitive to DC offsets on the AC mains voltage. Each channel has individual over current, DC, infrasonic and ultrasonic overload sensing, and protection for complete reliability under severe conditions.
Each amp's rear panel includes individual gain adjustments for easy, accurate system configuration, and an integral 12V trigger turn-on response. A combination of fuse and non-intrusive electronic protection makes them dependable, fail-safe, and sonically transparent. Custom designed heat sinks keep things cool, and eliminate the need for potentially noisy forced air-cooling. They also protect all channels against excess temperatures, DC faults, and loudspeaker short-circuits. Each channel is supplied with custom 5-way speaker binding posts, and a gold-plated RCA jack for incoming audio signals.
The T 175 Preamp-Tuner-Processor will be available in November at a suggested price of $1,999 (U.S. MSRP). The Seven-Channel T 975 Power Amplifier and Five-Channel T 955 Power Amplifier are available now at suggested prices of $2,499 and $1,999 (U.S. MSRP), respectively.
For more information visit http://nadelectronics.com/index