NAD L54 DVD Receiver
Filed under: A/V Receivers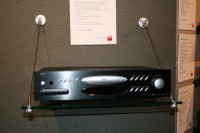 NAD L54 DVD Receiver
NAD Electronics introduced the L 54 DVD/Receiver at CEDIA EXPO '07 in Denver today. The L 54 is a great alternative for apartments, vacation homes, bedrooms, dorm rooms, and any other place where big sound is required, but space is limited or simplicity is desired.
The L 54 boasts an integrated two-channel 50-watt amplifier (20Hz-20kHz) rated at <0.08% THD with both channels driven into 8 Ohms. Despite its compact size, the L 54 is more than powerful enough to provide satisfying musical performance.
The built-in DVD player supports DVD-Video, VCD, SVCD, CD, CD-R, CD-RW, MP-3, J-PEG, WMA and DivX formats. The dual standard (NTSC and PAL) DVD section features progressive scan with Component Video output.
The L 54 offers a wide range of DVD features, and a built-in AM/FM tuner that includes 30 favorite station presets that can be custom named. They can also display, for stations supporting the Radio Data System (RDS), an automatic stream of information about the music being played and the station.
The L 54 can be used with any high-quality video display through the supplied Component, Composite, and S-Video outputs. Two digital inputs (one optical, one coaxial) permit additional sources to be connected. An optical digital output allows connection to a CD recorder or other digital recording device.
All features are easily accessed with the supplied learning remote, which can also operate almost any other IR remote controlled device. Its logical layout and illuminated keys make operation straightforward, and the remote's ability to learn commands for up to eight other devices eliminates the clutter of multiple handsets.
The L 54 DVD/Receiver is available now for a suggested price of $699 (U.S. MSRP).
 For more information visit http://nadelectronics.com/index