LG BH200 Super Blu Player
LG BH200 Super Blu Player
Filed under: DVD/HD-DVD Players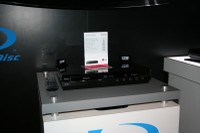 LG BH200 Super Blu Player
LG Electronics unveiled its second-generation LG Super Blu Player (model BH200) at CEDIA today. Sporting both formats' logos, LG's new high-def player is capable of Blu-ray disc and HD DVD playback with advanced BD-Java and HDi interactivity, enabling consumers to choose from the widest variety of high-def content regardless of disc format.

The Super Blu Player offers increased HDTV entertainment choices, because it can play 50 to 60 percent more high-def movie titles than either single-format player. With full networked interactivity available from selected HD DVDs, and the capability to handle networked "BD-Live" interactivity in forthcoming Blu-ray discs, it is the latest available technology that plays both disc formats.
Viewers can enjoy advanced options such as "Picture-in-Picture" available from many Blu-ray discs as well as HDi web-connected interactivity available from many HD DVDs. Access to these features enables viewing of storyboards, production videos and director's commentary as the movie is playing, as well as accessing up-to-date information. The Super Blu Player also accepts additional entertainment content via a network connection.

The LG Super Blu Player, which can output up to 1080p video resolution at 24-, 30-
and 60-frames-per-second, supports various A/V formats, including MPEG-2, VC-1, H.264 video, MPEG1/2 audio, Dolby Digital, Dolby Digital+, DTS and DTS-HD audio. The unit also includes multiple inputs/outputs such as HDMI 1.3 out, component/composite video outputs, digital optical and analog audio outputs as well as a LAN Ethernet port for network interactivity.
LG Super Blu Player customers will enjoy superior quality video output with HDMI 1.3 Deep Color output to improve color tones and achieve finer color gradations to deliver the smoothest and most brilliant video output available. The player also features QDEO advanced video processing for up-scaling accuracy up to 1080p, improved noise reduction and consistent color precision.
The new Super Blu Player incorporates LG's SimpLink connectivity solution, enabling easier control of other LG SimpLink compatible equipment. The units are connected with an HDMI cable and use the HDMI-CEC communication standard. This allows the user to control other components on-screen or directly from each component. The BH200 also is equipped with a USB Media Host for easy access to digital music and photo libraries.
LG's Super Blu Player will be available to U.S. consumers and custom installers in mid-October at a suggested retail price of $999.
About LG Electronics USA, Inc.
LG Electronics USA, Inc., based in Englewood Cliffs, N.J., is the North American subsidiary of LG Electronics, Inc., a $48.5-billion (2006 consolidated worldwide revenues) global force in consumer electronics, home appliances and mobile communications. In the United States, LG Electronics sells a wide range of digital appliances, digital display and digital media products, and mobile phones under LG's "Life's Good" marketing theme. For more information, please visit www.LGusa.com.