KEF KIT540, KIT570 DVD Home Theater System
KEF KIT540, KIT570 DVD Home Theater System
Filed under: Loudspeakers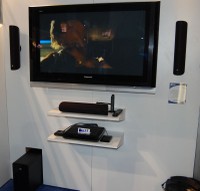 KEF KIT 570
KEF released their new KIT540 DVD home theater system today at CEDIA in Denver.  The KIT540 is a complete DVD-based Home Theater System matched with KEF's KHT5005.2 speakers. This 5.1 speaker package features 2  front satellite speakers, 1 matching center channel speaker, and 2 matching surround effects speakers. Also matched with KEF's KHT5005.2 5.1 Speaker System is the new KIT570w, which adds wireless rear surround effects speakers to a complete DVD-based Home Theater package. The KIT570w features 2 front satellite speakers, 1 matching center channel speaker, and 2 matching wireless rear surrounds, making it possible to have discrete, separate rear-channel speakers without the difficulty, expense or mess of having to run speaker wire to the back of the room. This package includes the specially designed KEF Wireless Kit for the KHT5005.2 speakers (1 transmitter and two receiver modules).
Aside from speakers, both KIT540 and KIT570w come equipped with a compact die-cast zinc head unit/DVD player all finished in high gloss black, and an all-new subwoofer of modest physical proportions. The driver complement in each of the front/center/rear speakers consists of KEF's patented Uni-Q 'sit anywhere' driver array flanked by a pair of 75 mm (3") long throw bass drivers with ultra-low distortion motor systems. The Uni-Q driver features KEF's 15 mm (0.6") metal dome HF driver at the acoustic centre of the 75 mm (3") midrange cone to disperse a seamless sonic image evenly throughout the listening area.

The 'smart' KIT540 and KIT570w systems, in addition to being 'KIT Easy' to set-up, instantly recognize the format of whatever disc is inserted and configure the system accordingly – no complex set-up procedure required.
Like the new KIT120, the new KIT540 and KIT570w are iPod and USB 2.0 compatible and feature an HDMI output for high-performance, all-digital connection to today's High-Definition televisions via a single cable. They also feature KEF's new ergonomically designed remote with optimized positioning of 'main' buttons, a very cool metallic feel and 'KEF Blue' back-lit buttons to improve visibility in darker environments.
The KIT540 and KIT570w will be available Christmas 2007, at a suggested MSRP of $2,799.99 and $3,399.99 respectively.
For more information visit www.kef.com