KEF KIT 120 DVD Home Theater System
KEF KIT 120 DVD Home Theater System
Filed under: Miscellaneous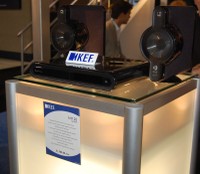 KEF KIT120
Today at CEDIA KEF debuted their KIT120. The KIT120 is a new, complete DVD-based Home Theater System that includes everything necessary to experience 5.1 digital surround sound from just two compact front speakers and a hide-away subwoofer, eliminating the need to run wires and place speakers in the rear of the room. By combining KEF's Uni-Q 'sit anywhere' drivers with patented flat panel technology, KEF engineers have discovered a way to deliver all the subtleties and spatial depth encoded in today's digital formats from just two small speakers and a subwoofer. The system is remarkably quick and easy to set up, with no confusing configuration or menus required, The KIT120 recognizes whatever type of disc is loaded and automatically configures the system accordingly – simply insert a disc and press 'play'!
The KIT120 is comprised of two small, speaker enclosures and a compact head unit/DVD player both finished in a high gloss black and an all new subwoofer.
The KIT120 is iPod and USB 2.0 compatible and also features an HDMI output to provide an all-digital connection to today's High-Definition televisions through a single cable. The remote is a brand new, ergonomically designed controller with optimized positioning of 'main' buttons and a very cool metallic feel.

Available in September 2007, the KIT120 carries an MSRP of $1,499.99.
For more information visit www.kef.com