JBL CSS10W Wireless Subwoofer
JBL CSS10W Wireless Subwoofer
Filed under: Loudspeakers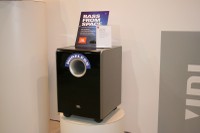 JBL CSS10W
JBL enters the the wireless subwoofer category with the introduction of its Cinema Sound CSS10W AT CEDIA 2007.The JBL CSS10W can be used in a home theater or music system without running any connecting wires through walls or under floors, resulting in easy placement and installation. The CSS10W comes in high-gloss-black and metallic-silver enclosure that matches the styling of other JBL Cinema Sound loudspeakers and complements a wide variety of home entertainment systems.
The CSS10W includes a compact transmitter/receiver module that connects to an audio/video receiver (or other audio source) and operates in the 2.4GHz frequency range for clear, reliable signal transmission to the wireless transceiver unit built into the subwoofer. The CSS10W, which can also be used as a conventional wired subwoofer, includes a host of controls and connection options for optimal performance in any installation.

The CSS10W features a built-in 300-watt peak/150-watt RMS amplifier, as well as a high-excursion 10-inch woofer.
The CSS10W can be matched with any floorstanding, bookshelf, in-wall or on-wall speakers to create a complete multichannel speaker system that delivers exceptional surround sound. The subwoofer employs room-friendly acoustical-design principles from JBL, ensuring it will provide powerful and articulate bass performance in the widest variety of listening environments and placement positions. The JBL CSS10W wireless powered subwoofer will be available in January 2008 at a suggested retail price of $559.

The Harman Consumer Group (HCG), Inc., is a leading designer, manufacturer and marketer of a wide
range of high-fidelity loudspeakers, audio and video components, and multimedia systems for use in
homes and automobiles, and with computers. The group's brands include JBL, Infinity, Harman Kardon,
Mark Levinson, Revel, Audioaccess and Lexicon.

For more information go to http://www.harmankardon.com