Infinity ERS 610 In-Ceiling Loudspeaker
Infinity ERS 610 In-Ceiling Loudspeaker
Filed under: Loudspeakers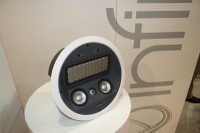 INFINITY ERS 610
Infinity Systems today announced the introduction of its ERS 610 in-ceiling loudspeaker. Unlike those found in typical in-ceiling speakers, all of the ERS 610's drivers are mounted at an angle, a configuration that provide a more precisely defined sound field. Its dispersion pattern makes the ERS 610 ideal for use as the main left-, center- or right-channel speaker or as surround speakers in a wide variety of custom installations and home entertainment systems.

The MRS woofer used in the ERS 610 employs a flat-panel diaphragm made from the company's lightweight, rigid Ceramic Metal Matrix Diaphragm (CMMD) material. The diaphragm operates in conjunction with a unique dual elliptical-voice-coil arrangement for higher efficiency and dynamic capability, an exclusive same-plane surround suspension that provides more stable and accurate driver motion with greatly reduced distortion, and other innovative technologies.
The MRS driver is complemented by dual 3-inch CMMD midrange drivers, and a 1-inch CMMD tweeter with frequency response that extends to beyond 40kHz. The tweeter operates in conjunction with a high frequency waveguide that is shaped to provide optimal high-frequency dispersion and smoothness, along with higher sensitivity.

The ERS 610 is supplied with an integral back-box rear enclosure. The enclosure's shape and volume is designed to provide optimum bass response and efficiency, as well as acoustic isolation, regardless of where the speaker is mounted. In addition, the enclosure is braced and contoured to minimize unwanted internal resonances.

The ERS 610 includes a low-frequency boundary compensation switch and a high-frequency level control that allow it to be adjusted for the best-possible sound quality in any location, delivering natural vocal and instrumental reproduction and a smooth tonal balance both on- and off-axis. It is constructed using premium-quality components, including low-inductance resistors, polypropylene capacitors, laminated steel inductors and oxygen-free copper wiring for maximum sonic purity.

The Infinity ERS 610 in-ceiling loudspeaker will be available in October 2007 at a suggested retail price
of $599 each.

For more information go to http://www.harmankardon.com
The Harman Consumer Group (HCG), Inc., is a leading designer, manufacturer and marketer of a wide
range of high-fidelity loudspeakers, audio and video components, and multimedia systems for use in
homes and automobiles, and with computers. The group's brands include JBL, Infinity, Harman Kardon,
Mark Levinson, Revel, Audioaccess and Lexicon.