Artison Soundbar
Filed under: Loudspeakers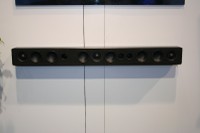 Artison Super Slim SoundBar
Artison announced today the introduction of a new slim SoundBar at CEDIA EXPO 2007. Engineered by speaker designer Cary Christie and the Artison design team, the SoundBar attaches directly to flat panel televisions 37-inches and above and delivers three front channels of sound from just one cabinet.

The unit is ideal for areas with limited space – especially flat panel installations where side speakers do not fit. The Artison SoundBar is offered with black or grey grilles that match a flat panel display's length. For installation flexibility, a stand is available to accommodate tabletop applications.

The SoundBar places all three front channels (left, center and right) in one slim cabinet that attaches directly (above or below) to the flat panel, rather than the conventional three speaker box approach. The Soundbar is engineered using five, one-inch Super Audio Tweeters and 6, three-inch Kevlar Midranges. Artison says that the Soundbar will deliver a frequency response to 80 Hz for realistic bass – all from a speaker weighing just 15 pounds.

The Artison SoundBar can be purchased at an MSRP of $1,200.00, including the stand and grille, from authorized Artison Dealers and Electronic System Contractors nationwide.

About Artison
Artison is dedicated to the development of new audio and video applications designed to meet the technology needs of the 21st century. Led by renowned speaker designer, Cary Christie, Artison demonstrates its expertise by developing technological innovations that enhance consumer's home audio and video enjoyment. The company is headquartered at 774 Mays Boulevard, Suite 10-183, Incline Village, NV 89451, phone US +1  7758334344  Call , or visit the Artison web site at www.artisonusa.com.