EHX 2006 Show Report Day 2
EHX 2006 Show Report Day 2
Filed under: Editorials
Our coverage of the EHX expo in Long Beach California continues:
NuVision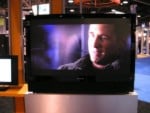 We started day two at the EHX Expo with a quick look at the NuVision 52-inch LED DLP rear projection TV. The new 1920 x 1080p DLP features the new LED Digital Illumination Engine. The benefits of this new technology are no lamp to burn out and no color wheel. The rear projection TV features ATSC/QAM HDTV tuning and NTSC tuner. Other features include SRS TruSurround sound and NuVision digital switching deep black processing.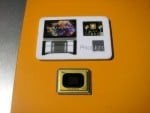 The TV weighs in at 90 lbs. and is 49.6" wide x 36.5" high x 14.8" deep. The image that the new 52" Led displayed was crisp, vibrant and full of color but did appear to be a little dim. Needless to say this is the first LED based technology we have seen that is ready for prime time. The 52LEDLP has a manufacture suggested retail of $4399 and is shipping now.
For more info visit www.nuvision.com .
SIM2 Multimedia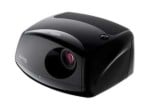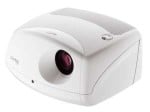 SIM2 Multimedia had a small booth located in the center of the Expo. They didn't have any operational projectors but they did have a static display of their D80 1080p projector. According to the reps, the D80 has recently been reduced in price to $9995. The D80 has a nice sleek case (available in either Matte Black or Matte White) and features the newly introduced 0.95-inch 1080p DarkChip3 DMD chipset, and is capable of displaying full 1080p content like HD DVD or Bluray. The projector incorporates a new seven segment color wheel (RGBRGB) plus Natural Density Filter, 10-bit video processing and 160 watt high out put lamp. SIM2 claims the projector has a contrast ratio of 4,000:1.
For more information visit www.sim2usa.com . 
Klipsch Audio Technologies
Matt Shuler, the Klipsch representative, was very busy answering questions about their newly redesigned in-wall and in-ceiling speakers. The Reference series in-walls feature very high sensitivity and power handling, pivoting Tractrix horn compression tweeter, treble and midbass attenuation switches, IR knock out and single piece rust proof grill. The Reference in-ceiling speakers also feature high sensitivity and power handling, swiveling Tractrix horn compression tweeter, treble and midbass attenuation switches. The entire inner baffle can rotate 360- degrees and tilt 15 degrees in either direction making installation and placement much easer. We have had the opportunity to hear these speakers many times and they are very dynamic. If you have a large room the new Reference in-wall and in-ceiling speakers should be on your demo list. The Reference in-wall/in-ceiling speaker's start at $300 each and have a lifetime warranty.
For more information visit www.klipsch.com .
Eiki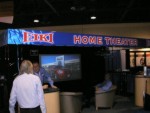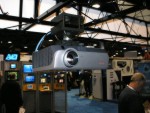 Eiki (until recently, only known for their business projectors) was demonstrating its new 1280x 768 projector the EIP-I600T. The new projector features a 5-speed 6-segment color wheel and has an operating noise level of just 30dBa. The manufacture claims contrast ratios of 6000:1 and brightness level up to 1200 ANSI lumens. The demo we viewed looked pretty impressive but the lofty price tag of $4295 for a 1280 x 768 projector may be a little ambitious. The EIP-I600T has a 3 year warranty.
For more information visit www.eiki.com .
Olevia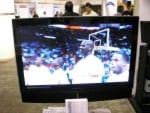 Olevia has established it's self as a manufacture that produces high bang for the buck LCD flat panel displays. This year they were demonstrating their new 7 series LCD flat panel. The 747i (a 47 inch LCD) has 1920x1080 resolution, 1600:1 contrast ratio, fast 8ms response time and ultra wide viewing angels of 178-degrees. The 747i incorporates the Silicon Optix Realta HQV image processor and is ISF calibrated at the factory. The 747i can be firmware upgraded utilizing the USB port. The fast motion image we viewed looked terrific colors were very saturated; the image was sharp and displayed no artifacting. The new Olevia 747i is shipping now and has a MSRP of $4500.
For more information visit www.olevia.com .
RTI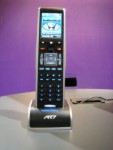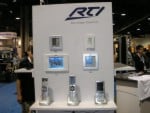 There were a lot of control systems at the Expo this year and we couldn't help noticing RTI's newest addition. The T2-C Universal Controller features a full color LCD to display custom buttons, text, graphics and animation. The controller has thirty-five assignable/programmable keypad buttons and a three-way rocker switch for scrolling. Other features include a "tilt switch" for automatically turning on the back light when picked up and transmission of IR and RF or both on a single button or within a macro. The T2-C can be programmed using USB and has field upgradeable firmware. We must say that the sleek ergonomic design and the intuitive layout of the keypad buttons impressed us. The T2-C Universal Controller is available now and has a MSRP of $799.
For more information visit www.rticorp.com .
KEF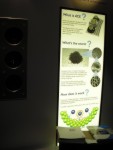 There were many loudspeaker displays at the EHX Expo but one manufacture drew our attention with a fairly bold marketing claim. This year KEF introduced a new in-wall speaker that incorporates a technology called ACE ( Acoustic Compliance Enhancement). KEF claims that ACE will improve dispersion patterns and bass response on their new in-wall speaker. ACE is achieved by introducing granules of activated carbon into the enclosure. The carbon contains a multiplicity of cavern like pores effectively providing more absorption on a molecular scale.
The new Ci9000ACE is built for flush mounting into the walls and is a 3-way design. The speaker can handle 150 watts of power and has a sensitivity rating of 88dB.The Ci9000ACE features a 6-1/2" midrange driver, twin ¾" aluminum dome tweeters and two 6-1/2" bass drivers in a sealed back box. The Ci900ACE is available in two different grill options black or white. It is available now at a retail price of $999.99 each.
KEF also had their very intuitive motorized in-ceiling speakers on display. The Ci380QT automatically extends down from its flush-mounted ceiling position to directly project sound toward listeners. The Ci380QT is available now and has a retail price of $499.99 each.
For more information visit www.kef.com .
DVDO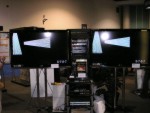 DVDO had a nice centrally located booth where they had a demonstration an A/B comparison of their DVDO iScan VP Series video processor vs. competitive processing. The DVDO iScan was clearly better in every category (not surprisingly given it was their booth). The iScan VP20, VP30 and VP50 video processors convert standard definition, high definition and PC signals to the optimal resolution and frame rate for the display. The new VP Series is powered by Anchor Bay Technology and will do 10 bit motion, edge and source-adaptive deinterlacing of 480i, 576i and 1080i. The new processors feature five field motion-adaptive deinterlacing, edge adaptive processing for smooth diagonal edges, maximum of three frame video processing delay, detection of multiple source types within a frame and bad edit detection to minimize artifacts. Other features include ABT's Progressive ReProcessing that recovers the original interlaced signals in standard 480p/576p and even 1080p. The VP-20 retails at $1699, VP-30 retails at $1999 and the top of the line VP-50 has a retail of $2999. All of the processors are shipping now.
For more information visit www.DVDO.com .
Middle Atlantic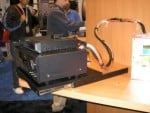 Surprisingly there were not a lot of A/V racks and furniture displayed at this years expo but Middle Atlantic had a nice large booth displaying their new Reb Series rotating sliding base for smaller A/V systems. The easy-to-install equipment base slides out and rotates simplifying access to AV component connections. The sliding base has a low profile design of only 2" overall height. The rotating feature provides easy access to the rear of audio and video equipment. Cable management keeps wires neatly organized. Two depths are available to accommodate a verity of component sizes and cabinet dimensions. The shelf pivots left or right up to 60-degrees. The Reb Series rotating sliding base is available now and prices vary depending on configuration.
For more information contact www.middleatlantic.com .
Denon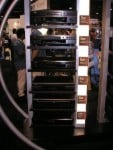 Anyone need a DVD player? Denon had all of their current DVD players on display. Denon also displayed the 5805 receiver with updated Audyssey software. No new products were announced since the CEDIA 2006 coverage.
For more information visit www.denon.com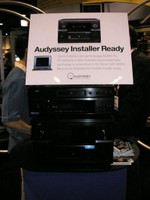 TruAudio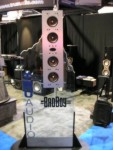 In-wall speakers were everywhere at the Expo and one with a catchy name caught our attention. TruAudio had their new in-wall on display called the BadBoy Series. The new in-wall LCR speaker BB-465 LCR features three 6-1/2" woven carbon fiber woofers, one 6-1/2" midrange and one 1" silk dome tweeter. The speaker has a frequency range of 55-20kHz, sensitivity of 92dB; impedance is 4 ohms and power handling capability of 5-300 watts. Dimensions of the new in-wall are 40-1/2" H x 11" W x 4-3/4" D and weigh in at 23lbs. each.
The BB-822 CSUR (a matching in-ceiling speaker) is available for surround sound applications. It features an 8" woven carbon fiber woofer and dual silk dome tweeters. The in-ceiling speaker has a frequency response of 75-20kHz, sensitivity of 90dB, impedance is 4 ohms and power handling capability is 5-150 watts. Cutout diameter for the in-ceiling speaker is 11-3/4". The in-wall speaker's static display looked pretty intimidating and the speakers may live up to their name.
For more information visit www.truaudio.com .
Furman Sound

Furman Sound's booth was packed with various models of AC power management products. Among the newest power conditioners is the AR 20 II. Furman's AR-20 II accepts input voltages from 97 volts to 141 volts and transforms them to a constant 120 volts. Unlike voltage regulators that use motorized transformer-based technology and switch taps at uncontrolled times creating voltage spikes and clicks that leak into the audio, the AR-20 II compares the incoming line voltage to an extremely precise voltage reference and switches taps electronically at the zero-crossing to avoid distorting the AC waveform.

The regulator is also outfitted with Furman's proprietary Series Multi-Stage Protection Plus (SMP+) technology, which combines three filtering and protection circuits: Linear Filtering Technology (LiFT) suppresses noise dramatically and consistently across the entire dynamic range; Series Multi-Stage Protection (SMP) clamps and dissipates damaging transient voltages at the highest degree available without sacrificing itself; and Extreme Voltage Shutdown (EVS) circuitry protects against prolonged over voltages by shutting off the incoming power until the over voltage condition is corrected.
The AR-20 II features 12 outlets on the rear panel and two convenient outlets on the front panel. All 14 outlets are regulated, spike-suppressed, and filtered against radio frequency and electromagnetic interference. The AR-20 II is currently shipping and retails for $1599.
For more information visit their site at www.furmansound.com .
Xantech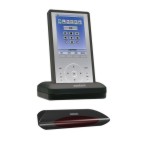 Xantech was exhibiting its new XRT39 LCD remote at this year's Expo. The new remote features a fully customizable 3.9" color LCD touch screen and programmable hard buttons. The XRT39 can be configured to control anything from a simple home theater system to a complex home automation system. The remote has both IR and RF output that enables equipment to be controlled room to room up to a range of about 100ft. The optional RF2IR base station enables the RF capability of the XRT39 remote. RS232 commands can be enabled to control virtually and piece of equipment.
Xantech's Universal Dragon Drop-IR software makes programming both the XRT39 and the RF2IR simple and straightforward. Xantech's promises the new XRT39 is simple to use and can be configured to meet any style. Both the XRT39 and the RF2IR are available now. The XRT39 remote has a list price of $999 and the RF2IR sells for $200.
For more information visit www.xantech.com .