EHX 2006 Show Report Day 1
EHX 2006 Show Report Day 1
Filed under: Editorials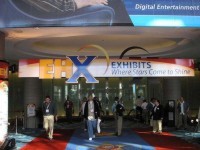 The 2006 EHX expo held at the convention center in beautiful Long Beach California was much bigger and better this year. The expo, although smaller than CES or CEDIA still provides a very nice venue for many manufactures to show off their latest and greatest products to the custom A/V installer.
Impact Acoustics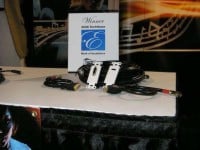 Our first stop at the expo was the Impact Acoustics booth. Our innovative friends at Impact Acoustics have been busy since our last meeting. Impact Acoustics will be adding to their award winning RapidRun system their new HDMI system called the RapidRun Digital. This truly innovative system consists of a CL-2 in wall approved digital cable available in various lengths between 15 and 60 feet. HDMI or DVI modules can be connected to the end of the cable. Impact Acoustics will also offer active HDMI modules for tilt compensation. DVI modules are also available or you can mix and match with HDMI or DVI flying leads. Impact Acoustics indicated that they have tested the 60ft runner cable and HDMI modules at 1080p with no signal degradation. Of course we were very excited to hear this and will be among the first to get a chance to put this new cable system to the test with an in-depth review.
For more info visit www.impactacoustics.com
Art.Engine Loudspeakers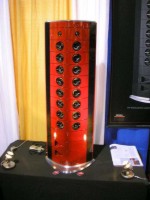 Anyone have a Ferrari parked in their garage? How about a nice pair of Ferrari speakers to match the car! ART.ENGINE was displaying their uniquely beautiful speakers. The multi driver speakers stand 47-inches tall have a frequency response of 40 Hz-20 kHz and are built from carbon fiber. The speakers design cues are taken from the beautiful Ferrari GT cars. The speakers are in limited production and only 1000 pairs will be sold. The speakers are available in Ferrari red, silver and black. I didn't ask the price of the speakers because I figured if you have to ask, well you know the rest.
For more information visit www.dwvArtEngine.com
SunBrite TV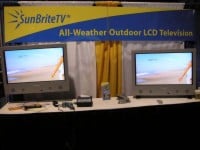 Have you ever considered mounting a flat panel outside in the elements? Generally speaking flat panel displays and outside don't mix well but we found a manufacturer at the EHX expo displaying what might be a possible solution. SunBrite TV was displaying a 32-inch 1366x768 LCD and a 20-inch 800x600 LCD that are weather resistant. The manufacturer representative stated that the displays are brighter than conventional indoor LCD's to overcome glare and sunlight when installed outdoors. Both displays feature an all weather enclosure with water tight controls and cable entry system. The displays also feature a water-resistant floatable remote control. The LCD's are temperature rated to + 122 degrees down to a chilly -24 degrees. The costs of the LCD panels are TBA.
For more information visit www.sunbritetv.com
Klegg
One of the most innovative products that had cool written all over it was the Klegg KLM401A 40-inch flat panel LCD. This is not your average LCD panel. The LCD panel is the worlds first IP controllable LCD TV with a multi media center computer and operating system Vista built in! Needless to say we spent a fair amount of time drooling over this baby and the demo of the Incredibles was well, Incredible.
The 40-inch panel features preinstalled Autonomic Controls custom software designed to work seamlessly with mutable home devices. Klegg believes that their media center TV will offer perfect IP control for integrators and end users. The manufacture further commented that the media center will allow the individual to have an exciting media experience and have access to their digital library with a simple touch of a panel. The KLM401A truly is a one box solution. The manufactures representative indicated that the MSRP price will be set at $5500. That is a heck of a deal for a system that can do just about everything except cook you breakfast. The KLM401A is shipping now.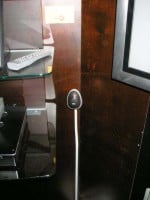 Breakfast anyone? How about some eggs to go along with your new flat panel display? Klegg was demonstrating their cute little M6 surround sound system. The system is comprised of five egg shaped speakers, one 200 watt subwoofer and a Dolby Digital/DTS processor.
The little egg shaped speakers have a frequency response of 220Hz-20 kHz. The tiny speaker measure just 4.7-inches wide x 5.5-inches high x 4.3-inches deep. This small unobtrusive system is not exactly audiophile but it may be the perfect solution for the bachelor pad or studio apartment. The M6 surround sound system would also be a great choice for the hard core PC, X-box or PS-3 gamer. The tiny egg shaped speakers are surprisingly heavy and are well manufactured. Now where's the bacon I am getting hungry.
For more information visit www.klegg.com
Phillips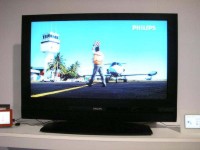 Phillips had one of the most impressive booths at the expo where they were displaying two new flat panels and the new very impressive TSU9600 multi-function remote control system. The 47PF9441D is a new 47-inch 1080p LCD that features proprietary processing called Pixel Plus 3 HD. This new processing enhances content from already near pristine sources such as HD and DVD's. The result after processing is a more brilliant life like image with more color pop and natural skin tones. We can certainly verify that the image we viewed on the new 47-inch LCD was stunningly beautiful. The 47- inch LCD will be available in December 2006 with a suggested retail of $2,999
Equally impressive was the 63PF9631D 63-inch 1366x 768 Plasma. This new Phillips plasma also incorporates the Pixel Plus 3 HD technology. The manufacture claims contrast ratios of 10,000:1. We can't verify this claim but viewing the pristine image on the plasma was like looking at a freshly opened box of Crayola Crayons. The image we viewed was crisp, rich, deep, and vibrant. The 63-inch plasma is currently available and has a suggested retail of $5,999.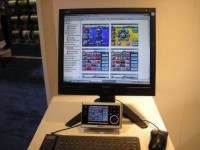 We were very impressed with the seemingly limitless flexibly of the new Phillips Pronto TSU9600 multi room remote control system. The new TSU9600 features a compact 3.7-inch VGA touch screen with very wide viewing angles of 160 degrees. The new touch screen uses Wi-Fi technology for complete home automation and control. Programming and setup are accomplished using one of the largest data bases available. The elegant touch panel has a high gloss black front panel and blue -backlit buttons. The TSU9600 is compatible with two optional extenders to maximize system control. If you are looking for a comprehensive control system that offers amazing looks and intuitive control you should be checking out the TSU9600. The TSU9600 is currently available and has a suggested retail price of $129.

For more information visit www.phillipsusa.com
Boston Acoustics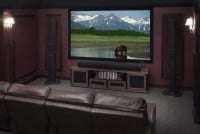 Well known speaker manufacturer Boston Acoustics had a very nice centrally located booth where they were displaying many different speaker models. It was hard to overlook the almost monolithic E-100 tower speaker at their booth. The tower is the flag ship of the recently introduced E-series speaker line up. This elegant sophisticated audiophile tower stands an epic 77- inches tall and incorporates six 5-1/4-inch woofers, one 5-1/4 -inch midrange and two one -inch aluminum tweeter ( one front, one back) The tower has four separate internal compartments that separate the various drivers. Only the highest quality precision capacitors are used in the E-series speaker's crossovers. The E-100 is available in several luxurious hard wood finishes. We were awestruck by the beauty and craftsmanship of the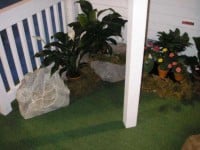 Boston Acoustics E-100 and we look forward to an in-depth review of this monolithic speaker. The entire E-series is available now and the E-100 has a suggested retail of $5,000 for the pair.
Boston Acoustics also displayed their very large but convincingly realistic looking rock speakers. These are among the largest rock speakers we have encountered, heck even Fred Flintstone himself would be proud to own a pair of these. Simply put these speakers look as though they were born to rock!
For more information visit www.bostonacoustics.com
Numinus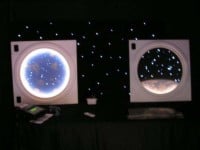 Are you a star gazer? Well how would you like to add a realistic star dome to your home theater? We found a manufacture at the expo that can do just that. Numinus LLC can create anything from the small port hole that simulates looking out of a space ships port hole all the way up to a full ceiling star field. The domes are made of high quality fiberglass with dimmable cove lights and twinkling fiber optic star field. Star tiles designed for the ceiling are available in sizes of 2x2 up to 4x4 tiles and feature twinkling fiber optic stars. The relaxing star fields add elegance and would be a very unique architecture feature for any home theater. Prices vary according to the size of the dome or star field.
For more information visit www.numinus.com
Polk Audio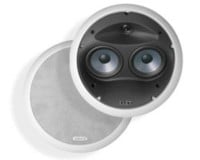 Polk Audio was grabbing a lot of attention on the expo floor demonstrating their new THX Ultra II certified in-ceiling speakers. The LCi RTS100 speakers feature the same audiophile grade driver components as found in their LSi and LCi free standing speakers. The new speakers also incorporate a high performance enclosure to minimize resonance. The LCi RTS100 has a diameter of 13-inces and weighs a hefty 12.5 lbs. The speakers are available now from Polk Audio dealers. No pricing information was obtained.
For more information visit www.polkaudio.com
JVC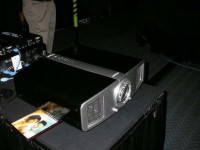 Surprisingly there were few front projection systems at the 2006 EHX expo. Considering the growing popularity of front projection systems we expected more manufactures showing non static displays. Among the few that did demo new front projection systems we found a couple of really nice looking systems.
JVC was showing their new DLA-RS1 1920x1080 3-chip DILA projector in a completely dark room on a huge screen. The manufactures representative claimed that the new projector will have a 15,000: 1 contrast ratio, feature a new and improved optics and incorporate 1980 x 1080 D-ILA chips that will fully resolve HD 1080 signals without scaling. The new projector will have vertical lens shift with an adjustable range of 80 degrees and 34 degrees of horizontal lens shift. The projector also features 2x manual zoom with a range of 1.4-2.8:1 making it suitable for screen sizes of 60-200-inches in typical home theater applications. The DLA-RS1 is equipped with dual HDMI inputs, component, S-Video and can be operated by home theater automation systems via its RS-232 port.
The suggested retail of the new projector will be set at $6295 and is scheduled to start shipping 1 st quarter 2007. We were very pleased with the JVC demonstration. The DVD image we viewed was outstanding, very sharp, colors were saturated and the black levels looked surprisingly good. We thought this new 1080p projector offered a lot of features and performance for the price and is definitely one to keep an eye on in 2007.
For more information, visit: http://www.jvc.com
Mitsubishi Electronics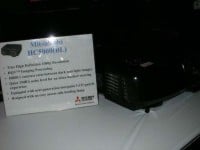 Mitsubishi Electric had an impressive large room were they were demonstrating their new HC5000 1080p LCD. This projector incorporates the new Silicon Optix Reon-vx high performance processor. The manufacturer claims maximum contrast ratio of 10,000:1. The new projector features motorized vertical and horizontal lens shift and has a sealed optical path minimizing dust accumulation on the LCD panels. The projector is very quite measuring just 19dBA in low mode. The HC5000 has HDMI, DVI, component, S-Video, composite and VGA inputs. The projector also features a 12 volt trigger and has an estimated lamp life of 5000 hours. The HC500 is currently shipping and has a suggested retail price of $4495. Unfortunately the room was very dark and photos were hard to capture.
For more information visit www.mitsubishi-hometheater.com
Gefen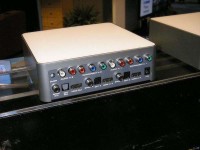 Gefen had their new Home Theater Scaler on display. The new scaler allows you to switch and upscale standard definition or high definition component and HDMI sources to resolutions up to 1080p. The Home Theater Scaler supports two component sources with two analog and two HDMI sources with digital audio. The analog audio from the component input is digitized and outputted to the HDMI connection as well as the digital audio inputs. The HDMI inputs also have separate digital audio inputs; this allows you to DVI sources and separate digital audio. The scaler will embed the digital audio into the HDMI output as well as the digital audio outputs. The new Home Theater Scaler has an on screen menu accessible through the IR remote control. The scaler has automatic 3:2 and 2:2 pull-down detection and recovery. Proprietary Advanced Color Engine technology provides brilliant color, increased contrast, sharp edges and accurate independent color control. The Gefen Home Theater Scaler would be the perfect choice for all set top boxes, DVD players, X-Box 360 or Sony PS-3. The Home Theater Scaler is available now.
Visit www.gefen.com for more information.
CLO Systems
Holy Lost in Space; Danger Will Robinson! - we've found part of your robot at the expo! Actually it's the new CLO X arm robotic display mounting system. With the touch of a button from a universal remote control the X arm can extend the flat panel 12-inches from the wall. The new robotic mount has a left/right swivel motion range of 20-28 degrees depending on the flat panel size. The mount can also tilt up and down. Two programmable memory locations are provided for recalling viewing positions. The X-arm can accommodate flat panel displays between 40-60 inches and has a maximum load rating of 180 lbs. The CLO X-arm is shipping now and has a suggested retail price of $2295.
For more information visit www.closystems.com
Yamaha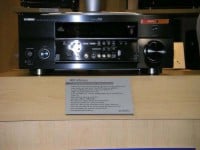 Our friends at Yamaha had a very nice well organized booth the expo and the soon to be shipping RX-V2700 was drawing quite a few on lookers. The sleek new receiver incorporates the new Anchor Bay ABT1010 reference series scaler that enables the receiver to upscale to 720p and 1080i. The new receiver also features an Ethernet connection allowing user's access to Internet radio, digital music files and connectivity to the Yamaha MCX-2000 MusicCAST audio system server. The RX-V2700 is also iPod compatible with the use of the optional YDS-10 docking station. The RX-V2700 receiver retains the popular RX-V design from previous receivers.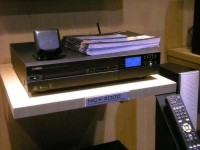 Yamaha also displayed their recently software updated MCX-2000 MusicCAST audio system server. The MCX-2000 has a very large storage capacity of about 2000 hours of music. The 802.11b/g network technology ensures faultless signal transfer from the server to the clients. The clients are able to play high quality music wirelessly from the stored music server. The server is able to send music to 16 different locations allowing up to 15 different clients to be used with one server allowing instant access to music anywhere around the home. The MCX-2000 features a very intuitive user interface enabling the consumer full access to create and listen to music library's from any locating in the home. The in-wall client will fit in a standard low voltage dual-gang box. The easy to read and use on screen display allows the consumer full access to the server and select music by artist, album, genre, play list or all songs. The updated MCX-2000 is available now.
For more information visit www.yamaha.com/yec.