Toshiba HD-XA1 HD-DVD Player
Toshiba HD-XA1 HD-DVD Player
Filed under: DVD/HD-DVD Players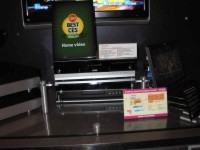 Toshiba is displaying its HD-DVD players as it pushes this format to win the high definition DVD war. The HD-XA1 and HD-A1 are the two models being released in an effort to jump-start the format. The DVD HD-XA1 image looked very good but the resolution is limited to 1080i or 720p. Both the player and software titles will initially be 720p/1080i. This will be a consideration in the format war because Blue Ray will be 1080p.
One thing of note is the price difference between players. The HD-DVD players will start at about $499, with a higher-end $799 model. Both will hit shelves in March. The Toshiba rep indicated that the player will ship in Spring this year. We can only wait and see if this is true. The DVD player incorporates high quality 24-bit 96kHz audio DACs and naturally has HDMI output as well as S/PDIF. The Toshiba rep seemed confidant there will be many DVD titles which will be priced competitively.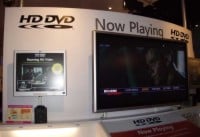 Toshiba's HD-XA1 and HD-A1 support a variety of HD audio options to complement HD video offerings. The mandatory audio formats for HD DVD include both lossy and lossless formats from Dolby Labs and DTS including the newly developed Dolby Digital Plus and DTS-HD.
The lossless mandatory formats include Linear PCM and Dolby TrueHD (only 2 Channel support is mandatory). The TrueHD format is bit-for-bit identical to the high resolution studio masters and can support up to eight discrete full range channels of 24-bit/96k Hz audio. Another lossless format (specified as an optional format) is DTS-HD. This employs high sampling rates of up to 192k Hz.
Both models feature built-in multi-channel decoders for Dolby Digital, Dolby Digital Plus, Dolby TrueHD (2 channel), DTS and DTS-HD. The HD-XA1 employs the use of four high performance DSP engines to decode the multi- channel streams of the wide array of audio formats. These high performance processors will perform the required conversion process, as well as the extensive on-board Multi-Channel Signal Management including: User Selectable Crossovers, Delay Management and Channel Level Management.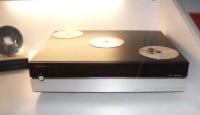 The new HD DVD players can pass digital information to a Surround Sound Processor/Receiver via S/PDIF or HDMI. For Dolby Digital and DTS, the bitstream will be passed through both connections just as in a standard DVD player with the same interfaces. Dolby Digital Plus and DTS-HD content will be converted to a standard bitstream format that is compatible with any processor equipped with decoders of the respective formats and output through S/PDIF and HDMI. Additionally, all the audio formats for either DVD or HD DVD will be decoded to PCM and output via HDMI in either stereo or multi-channel.
High Definition Design
The design of both new HD DVD players was developed to complement the newly designed DLP Projection TV models as well as Toshiba's extensive flat panel TV line-up. Specifically, the construction of the HD-XA1 was developed not only for advancements in performance, but also for the refinements expected of a high performance player. It features a motorized door which conceals the disc drawer, function buttons and two front USB ports, for convenient connection of gaming controllers. The HD-XA1 also includes three different user selectable interfaces to further enhance customization and a backlit remote control that is conveniently motion activated.
Because HD DVD Discs spin at higher revolutions than a standard DVD, accurate mechanical engineering went into the chassis design of both models. A double chassis construction is employed to add stability and strength against vibrations and the HD-XA1 adds insulated stabilizing feet to provide a steadfast foundation for the device.
High Definition Market Launch
Toshiba also unveiled an extensive integrated marketing communications campaign to support the launch of its first HD DVD players. The multi-tiered campaign is designed to create consumer awareness for HD DVD and to support retailers with promotional and training activities.
A teaser micro-site was recently launched with the release of a full micro-site to follow. The current teaser micro-site has been designed to educate consumers on HD DVD, and the launch of the full micro-site will include pertinent product and software information with links on where to buy, options for pre-ordering players, as well as listings of where to see product demonstrations.
Toshiba also announced a retail demonstration plan which will target the top 38 TV viewing markets in the U.S. beginning in February, 2006. In advance of the actual product launch in March, Toshiba's 38-city "road tour" will include consumer demonstrations and retailer training at many of the top electronics retail outlets nationwide.
Beginning this Spring, an extensive advertising campaign titled, "So real you can feel it," will target the HDTV consumer. This campaign will be supported by continued consumer education through the use of HD DVD collateral materials to help make consumers aware of the benefits of HD DVD.
To support retailers, Toshiba will offer an HD DVD in-store product display designed to enhance retail presence and to provide valuable information regarding HD DVD. The display also offers the retailer the flexibility to add HD DVD software to surround the display. These displays will work in conjunction with Toshiba's HDTV in-store presence, and Toshiba will also add retail incentives to encourage attachment of a HD DVD player to the sale of Toshiba's HDTV products.
For more information, please visit http://www.tacp.toshiba.com .