Sony BDP-S1 BD Player
Filed under: DVD/HD-DVD Players
Sony Electronics unveiled a variety of Blu-ray Disc-based products, with U.S. product introductions beginning this spring and gathering momentum over the summer. This includes the introduction of a much-anticipated home player. BD technology will also be included in VAIO computers, aftermarket computer drives and recordable BD-R (write-once) and BD-RE (rewritable) media. Recordable home units are not yet slated for US distribution and will be a 2007 news item.
Sony expects the Blu-ray Disc format to emerge as the standard in HD video performance and flexibility packaged in a convenient five-inch optical disc. The format features a robust 25GB single layer and 50GB dual layer capacity, making it ideal for feature length motion pictures with tons of extra feature material - all in full 1080p high definition - along with the multimedia possibilities of Java-enabled interactivity.
In one booth (Panasonic not Sony) we saw a javascript-based game that allowed you to shoot on-screen characters during an action scene in a movie - in real time - and the system kept score. This type of overlay (as opposed to menu-driven) menu system opens up a world of opportunities for special features on high definition DVDs.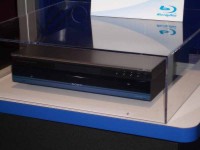 "Blu-ray Disc technology is the final piece needed to complete our vision of the high-definition world," said Hideki "Dick" Komiyama, president and chief operating officer for Sony Electronics Inc.
Sony's first Blu-ray Disc home player, model BDP-S1, will be available in early summer and features 1080p full HD video output (HD DVD only provides 1080i/720p) for brilliant HD imagery and also DVD upscaling to 1080p. This initial BD player features a sophisticated design and exceptional build quality with rigid beam construction as well as finely tuned audio and video parts and circuits (yeah, they told us to write that - lol).
The company's RC series VAIO desktop computer will combine Blu-ray Disc recording technology with high-octane performance, allowing aspiring HD movie makers and other videographers to shoot their creation with a high-definition camcorder. Using Sony's VEGAS software users can edit high-definition footage then archive and share it on Sony high-capacity BD-R and BD-RE Blu-ray Discs or on traditional DVD-R/RW, DVD+R/+RW discs, capitalizing on flexibility in storage, playback and recording. RC series desktops will be available with the drive in early summer.
As VAIO expands its line of digital home products Blu-ray Disc drives will be progressively integrated.
Sony also announced that a Blu-ray Disc aftermarket drive for personal computers is also expected to be available this year, and will support 25GB/50GB BD-R/RE discs, as well as DVD+R/+RW, and CD-R/RW recordable media. This drive will be bundled with consumer-level BD recording software and accessories for creation of High-Definition home video and data Blu-ray Discs.
Beginning in the spring, Sony will begin selling a 25GB single layer BD-R and the BD-RE recording media. Dual layer 50GB capacity recordable media will follow in the subsequent months. Recordable Blu-ray Discs utilize Sony's AccuCORE™ technology offering superb archival and reliability, scratch guard protection and temperature durability.
Sony's BD road map comes full circle by partnering the new home BD player with either a 1080p capable SXRD™ or BRAVIA™ LCD high-definition television.
Helping to support the BD players entering the market, Sony Pictures Home Entertainment division will be launching 20 titles on BD-Rom discs, spanning from recent hits to classic favorites.
Sony Computer Entertainment's PLAYSTATION®3 computer entertainment system scheduled for launch this year will also adopt BD-ROM disc as its medium.
For more information please visit www.sony.com .