Sonance Virtuoso Speakers
Sonance Virtuoso Speakers
Filed under: Loudspeakers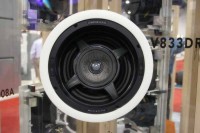 Sonance introduced a completely new Virtuoso® in-wall and in-ceiling speaker line featuring several award-winning technologies that deliver dramatically improved audio performance for both home theater and multi-room audio applications. The 11-model line incorporates a variety of new woofer and tweeter materials that measurably improve sound quality, and all Virtuoso round speakers now offer a fully-pivoting woofer assembly to more precisely direct sound toward the listener. New FastMount® positioning tabs (basically "one-way" metal clips that grab the drywall ceiling while you fumble for a screwdriver) have been added for hands-free installation, while the speakers' introduce an all new option of an Architectural Finish, eliminating the visible mounting frame around all in-wall speakers. All new Virtuoso speakers maintain the same footprint as previous Virtuoso speakers to make upgrades easier.
"We've made many substantial upgrades to improve the sound and appearance of every Virtuoso model," said Scott Sylvester, director of product strategy, "We also continue to simplify the installation process for our dealers, and offer aesthetic improvements, such as the Architectural Finish kit that provides a more polished appearance for our consumers."
The Virtuoso line, consisting of four rectangular (in-wall) models and seven round (in-ceiling) models, is based on a 3-way driver design using an 8" cone woofer, and a cone midrange and dome tweeter that are coaxially-mounted in an exclusive pivoting Sonic Eye® assembly. Two of the round models (V833SSDR and V831SSDR) are designed to receive stereo input connections and reproduce both stereo channels from a single speaker for applications where space is at a premium. Sonance also specifically designed one model (VRS2) to create a wide, diffuse soundfield that is ideal for surround-channel applications.
According to Sylvester, every speaker in the new Virtuoso line surpasses its predecessor model in both sound quality and ease of installation. In addition to the pivoting Sonic Eye, all of the round speaker models also feature a fully-pivoting woofer assembly; both of these features are designed to increase installation options by allowing installers to precisely direct the soundfield toward the main listening area.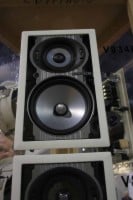 The top-of-the-line rectangular and round models (V834D and V834DR, respectively) feature woofer cones, midrange cones, and tweeter domes made from beryllium, which is stiffer, lighter and more resilient than conventional materials, and provides more accurate sound reproduction with less distortion, especially at higher volumes. The V834D woofer also includes an extended pole piece, which improves power handling and heat dissipation.
The V833D and V833DR use high-performance carbon fiber for their woofer and midrange cones, again to improve the accuracy of sound quality while reducing distortion. The two top rectangular speakers, the V834D and V833D, have added a speaker baffle of 3/4"-thick MDF - the same baffle material used in Sonance's THX-certified models - to further reduce resonance. The top three rectangular and round models (the V834D, V833D, V832D, and V834DR, V833DR, V832DR, respectively) offer a 3-position tweeter adjustment switch (+3dB, 0 and -3dB), while the V834D, V834DR, V833D and V833DR also offer a 3-position midrange adjustment switch. These allow the installer to fine-tune the speaker to the room's acoustics after the installation has been completed.
As with all Sonance products, the new Virtuoso speakers have been developed with the installer in mind. To complement the company's RotoLock® mounting system - proven to significantly reduce installation time - new FastMount tabs have been developed to allow the installer to work hands-free. The FastMount tabs work to hold the speaker in the mounting hole during the installation, eliminating the need for the installer to hold the speaker while searching for a screwdriver or other tool, making for a faster, easier and safer installation.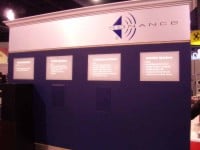 Also new to the Virtuoso line is the Architectural Finish installation kit. This optional upgrade allows any Virtuoso D or DR-series speaker to be installed without the visible mounting frame that surrounds the speaker. This results in a cleaner-looking installation, with the speaker grille being the only part of the speaker that is visible. Also available are optional cloth speaker grilles, as well as retrofitable molded enclosures, or back boxes, which reduce sound spillover into adjacent rooms.
The outside dimensions of the Virtuoso rectangular speakers measure 9-7/8" (251mm) x 15-15/16" (405mm) when installed, with a depth of 3-7/8" (99 mm). The outside diameter of the Virtuoso round speakers is 11-1/4" (286mm), with a depth of 6" (152mm). The new Sonance Virtuoso line is available this month.
Pricing and Availability
Model Retail Price (pair)
V831D $600
V832D $900
V833D $1600
V834D $2500
Model Retail Price (pair)
V831DR $600
V832DR $900
V833DR $1600
V834DR $2500
VRS2 $1050
Model Retail Price (each)
V831SSDR $325
V833SSDR $675
Further information can be obtained by visiting www.sonance.com .