Samsung AV-R3000 "Vaporware" Receiver
Samsung AV-R3000 "Vaporware" Receiver
Filed under: Receivers/Processors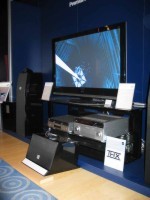 This infamous receiver has now officially been covered in our show reports for the 2005 CES, 2005 CEDIA and of course this year's 2006 CES Expo. By now this receiver is legendary - as much for it's never ending target of features as for its inability to successfully make it to the retail or dealer markets. Much to our surprise, people on our forums are still asking about this elusive receiver. Well, we're here to please.
The latest iteration of the AV-R3000 features 2 DVI inputs and 4 HDMI inputs with an HDMI output that will switch and upconvert to 1080i/720p through the use of a Faroudja FLI-2310 chip with DCDi. The newest shipping date is set for the end of first quarter/beginning of second quarter of 2006. Additional details can be seen in our prior coverage.
Samsung is so serious this time, so utterly committed to the ship date, that they didn't even insert the AV-R3000 receiver into their marketing literature or press kit coverage they make available on the official CES website. Now that's confidence-inspiring!
I have personally instructed our own Tom Andry to hold his breath until this unit comes to market. We'll let you know how things progress... :-)
For more information please visit www.samsung.com .