Pioneer VSX-D816/516 Receivers
Pioneer VSX-D816/516 Receivers
Filed under: Receivers/Processors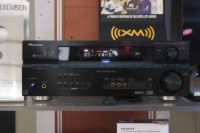 Two new A/V receivers were introduced by Pioneer Electronics (USA) Inc. at the 2006 Consumer Electronics Show. The VSX-516-K/S and VSX-816-K/S offer greater connectivity, added features, and plenty of power to create an intelligent home theater system. Music fans will be pleased to know that the VSX-816-K/S is the first A/V receiver to incorporate XM HD Surround broadcasts powered by "Neural Surround".
"We know that everyone thinks of the beautiful high definition plasma television as the centerpiece of the home theater, but in reality, the A/V receiver does most of the thinking - processing all of the audio and video signals to create the best entertainment experience," said Dave Bales, marketing manager of audio products for the home entertainment division of Pioneer Electronics (USA) Inc.
Both receivers are 7-channel systems featuring "surround back" and front bi-amplifier capabilities. This feature enables reconfigurable amplification, meaning a system only utilizing a 5.1 setup will not lose the power designated for the two unused channels of the 7-channel system. The receiver can be reconfigured to transfer the unused wattage to the front speakers. Each receiver is available in either black or silver to match existing components in the home.
Advanced AV Connectivity
> When paired with an XM Satellite Radio Connect & Play antenna and XM subscription service, the VSX-816-KS will receive more than 100 channels of music, sports, news and comedy through XM. The first of its kind, the receiver faithfully delivers the new XM HD Surround with Neural Surround for multiple channels of complete surround music. Neural Surround is the latest technology in digital audio discretely delivering surround audio in a format compatible with today's stereo systems. Designed for music, the Neural Surround experience is designed to provide the listener a natural environment with a crystal clear sound stage. The VSX-816-K/S offers advanced connectivity options for virtually any audio or analogue video source, including high definition cable, satellite or game consoles through three component video inputs. Five digital inputs ensure that consumers have capacity for Dolby Digital and DTS Digital Surround.
The VSX-816-K/S has the following connectors:
Assignable component video (3 in/1 out)
Four audio inputs (includes tuner)
Four A/V inputs
Five digital inputs (2 coaxial/3 optical)
One digital out
S-video terminal (4 in/1 out)
Front A/V input (s-video) with digital in (optical)
7.1-channel pre-out, 5.1-channel inputs
Automatic Room Tuning
The VSX-816-K/S provides advanced DSP (new freescale 180 MIP) combined with the unit's room tuning feature in an attempt to create a studio-like auditory experience closer to that of which filmmakers and musicians intended audiences to hear. Compensating for speaker distance and level, as well as the room's specific acoustics, the receiver equalizes the audio output of each speaker for optimum performance. When combined with the receiver's 100 watts of power to 7 channels, the goal is that sound accuracy is better, dialogue and action sequences clearer, and the entire experience more enjoyable. The receiver also is capable of decoding numerous audio formats including, Dolby Digital EX, Pro Logic IIx, DTS-ES, NEO6, DTS 96/24 and WMA-9 PRO.
Advanced Surround Modes for Specific Applications
The VSX-816-KS offers nine advanced surround sound modes for users to chose from based on their particular function.
Advanced Movie - Simulates the relaxed environment of a movie theater, and is suitable for watching movies.
Advanced Music - Simulates the acoustic environment of a large concert hall and is suitable for music.
TV Surround - This mode produces surround sound for both mono and stereo TV sources. It is useful for older movies recorded with mono soundtracks.
Sports - This is designed for sports programs with a lot of action, adding to the excitement by bringing background action to the front.
Advanced Game - Useful when playing video games. It works especially well with sound moving from left to right in game software.
Expanded - This mode is especially designed to give sound depth to stereo sources, and allows consumers to hear two-channel (stereo) signals as simulated multi-channel surround sound. Use with Dolby Pro Logic for a stereo surround effect. It also can be used with Dolby Digital sources for a wider stereo field than the standard modes.
7-Stereo - This can be selected to give multi-channel sound to a stereo source, using all of the speakers in a home theater.
Virtual Surround - Creates a virtual surround effect using just the subwoofer and front speakers.
Phones Surround - Surround sound effect can still be experienced when listening through headphones.
The VSX-816-K/-S will be available in March at a suggested price of $299.
High Power 7.1 Multi-channel Audio
The VSX-516-KS is a high-powered receiver ideal for someone in the beginning stages of creating a home theater. With Dolby Digital EX, ProLogic IIx, DTS-ES surround sound decoding for a 7.1 surround speaker array, it is a great value.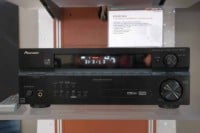 The VSX-516-K/S features include:
100 watts of power to each of its 7 channels
Surround EX technology to up-convert 5.1 source material for a 7.1 surround sound configuration
WMA-9 PRO compatibility to interface with PC audio
Two component video inputs and one component video output
Three digital inputs
Large speaker terminal for easy connectivity and expandability
The VSX-516-K/S will be available in March for a suggested price of $199.
When purchased from an authorized dealer, consumers receive a limited warranty for one year with Pioneer products and two years with Pioneer Elite products.
For more information please visit www.pioneerelectronics.com .