Pioneer PRO-FHD1 1080p Plasma
Pioneer PRO-FHD1 1080p Plasma
Filed under: Televisions & Displays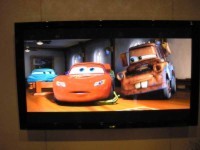 1080p HD flat panels were numerous at CES 2006 one big surprise was new 50" 1080p Plasma. Pioneer displayed their PRO-FHD1. This was hands down the best flat panel image that we viewed on this first day. The new Pioneer plasma was displaying 1080p - yes, true 1080p.
Pioneer's Elite PureVision PRO-FHD1 plasma with 1920 X 1080 resolution is capable of displaying the entire range of HD broadcasts including 720p, 1080i and 1080p.
"Whether consumers are watching the football game or the big parade, Pioneer's PRO-FHD1 will literally make them part of the action. Great HD quality captivates viewers who will experience the difference that comes with Pioneer's best-in-class products as they hear the roar of the crowd and see each individual flower petal on the parade floats," said Russ Johnston, senior vice president of marketing and product planning for home entertainment at Pioneer Electronics (USA) Inc.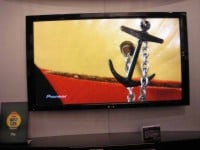 In addition to displaying 1080p signals, the PRO-FHD1 can up convert all other sources for improved HD image detail, color accuracy and fast moving image clarity. This Pioneer Elite PureVision 1080p plasma will accept sources from 720p and 1080i to DVD and Blu-ray Disc, and will automatically smart convert it to deliver the highest resolution picture possible.
Pioneer proprietary technology that makes 1080p possible includes:
Deep Encased Cell Structure makes each cell deeper to increase overall phosphor area for a brighter image. By casing each cell with horizontal ribs, Pioneer diminishes light leakage from neighboring cells for sharper, more accurate images. A new T-shaped electrode prevents misfiring of individual cells despite the fact that each individual cell is half the size as previous generations, enabling Pioneer to maintain its sharp, bright accurate images when reproducing at a native 1080p resolution.
>


The Pure Crystal Emissive Layer sandwiched between the plasma glass and the individual light cells conducts energy more efficiently so each cell is charged and discharged at a faster rate, improving contrast and brightness while using less energy. Swift charge and discharge of individual pixels results in an extremely smooth transition from color to black for blacker blacks and increased detail in dark scenes.

High Quality Up Conversion to 1080p minimizes interlacing motion artifacts of 1080i and increases the resolution of a 720p signal.

New PureDrive II Signal Processing delivers low noise, high contrast and natural color images. The High Precision Video Scaler receives and displays 1080p HD native resolution.

The First Surface Pure Color Filter reduces ambient light reflection and heightens color reproduction through the elimination of an extra layer of glass for sharper, crisper and more vivid images.

Enhanced ISF C3 capability allows a certified calibrator to perform advanced color calibration with never-before-achieved simplicity, accuracy and reliability. It includes a detailed gamma selection with eight steps.

Terminals on the monitor include Digital HDMI, DVI (HDCP), component and composite inputs. < /.UL >
An optional tabletop stand and wall mount bracket will be available. The Pioneer Elite PureVision PRO-FHD1 will be available in June for a suggested price of $10,000.
For more information please visit www.pioneerelectronics.com .