Panasonic BDP-6320 BD Player
Panasonic BDP-6320 BD Player
Filed under: DVD/HD-DVD Players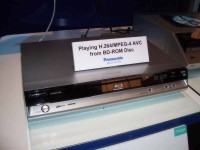 Panasonic's Blu-ray Disc player, or at least a prototype, made it to CES as well. We were able to get some photos and specs on the unit - none of which were off the beaten path for the BD player's expectations:
Resolution: 1920 x 1080 (max)
Supported Video CODECs: MPEG2, MPEG4, AVC, VC-1
Supported Audio Formats: Dolby Digital Plus, MPL Lossless, DTS HD
Interactive Functions: Pop-up menu system, Slide show, Bonus contents downloadable via Internet
50GB Dual layer BD-ROM support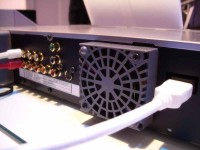 The prototype unit featured HDMI, component, and s-video connections (no composite connection was present - or at elast not color coded as such.) An optical digital audio output was seen as well as what appeared to be 7.1 analogue audio outputs (perhaps for Dolby TrueHD support?) To be hnest we don't really know much about this prototype as it differs almost completely to what was shown by Panasonic in preior shows earlier last year.
Panasonic is slated to ship their new player in summer of 2006. Pricing has not yet been determined and the recordable drive has not yet been announced for US distribution, though it was shown at CES.
For more information please visit www.panasonic.com .