Panasonic 1080p DLP HDTVs
Panasonic 1080p DLP HDTVs
Filed under: Televisions & Displays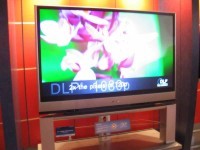 Panasonic announced at CES two new widescreen, high-definition DLP technology televisions featuring Texas Instruments' new 1080p DMD (Digital Micromirror Device.) Models PT-56DLX76 (56") and PT-61DLX76 (61") were shown off at the booth. The Panasonic fifth-generation DLP technology sets are planned for delivery in June, 2006.
Designed to deliver the full impact of high-resolution digital images from a multitude of sources, both models feature integrated ATSC/QAM/NTSC tuners, CableCARD1 slot, SD Card and Photo Viewer2, RGB PC inputs and HDMI inputs. The built-in ATSC3 tuner enables reception of Enhanced Definition (EDTV) 480p and High Definition (HDTV) native 720p/1080i/1080p signals. Both models include the TV Guide On-Screen Electronic Program Guide and a 30W audio system that includes a 15W sub- woofer.
Other features include:
An HDMI/HDCP interface that allows transfer of high-definition video and multi-channel audio over a single cable, which greatly simplifies the connection between a digital television and various CE host devices such as a DVD player or A/V receiver.
Direct Access Video Input: This feature allows the user to select a video input source directly without toggling through all inputs. Installers rejoice... When you press the TV/VIDEO button on the remote control, a menu listing all video inputs will appear. You can either scroll through the menu to select an input or simply press the number on the remote corresponding to the desired input.
Split-Screen display capability.
Optical output for Dolby Digital 5.1-channel surround sound decoders.
RGB PC input and XGA resolution display capability enable the set to serve as an ultra-high resolution PC monitor.
| | | |
| --- | --- | --- |
| MODEL | AVAILABILITY | SRP |
| PT-56DLX76 56" diagonal screen | June, 2006 | TBD |
| PT-61DLX76 61" diagonal screen | June, 2006 | TBD |
Additional information for is available at www.panasonic.com .