Optoma HD72 DLP Projector
Optoma HD72 DLP Projector
Filed under: Projectors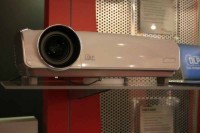 Optoma introduces the HD72 home theater projector, a new high performance, digital projector for home theater enthusiasts. The HD72 features Texas Instruments' latest 16:10 DarkChip2 DMD chipset to deliver vivid digital images, as well as a 7-segment color wheel and 10-bit color per channel processing to give the HD72 higher lumens and deep color saturation.
With a proprietary 7-segment color wheel with BrilliantColor and TrueVivid color enhancement technologies, the Optoma HD72 produces superior color and deeper dark settings at the same time. And, with native HDTV and HD PC resolution at 1280 x 768 (16:10), the HD72 delivers a 5000:1 contrast ratio at 1300 lumens to deliver subtle color details.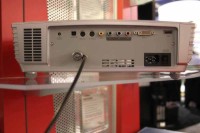 With Optoma introducing a native 720p home theater projector with an estimated street price of less than $3,000, the Optoma HD72 opens the projector market to budget-conscious, home theater fans that want high-quality and high-performance products.
The HD72 features BrilliantColor color processing technology to deliver higher brightness and provide truer, more vibrant colors to the projected picture. And, with 10-bit color per channel color processing, a 7-segment color wheel and its 5000:1 contrast ratio, the Optoma HD72 DLP home theater projector delivers great color saturation and subtle color details for the best image quality.
With its new unique design, the HD72 also lowers the noise level usually associated with typical home theater projectors. The patent-pending wind tunnel cooling system is designed for near-silent operation with minimal light leakage.
Specifications:

| | |
| --- | --- |
| Display Technology: | Single 0.65 12-degree DarkChip2 DLP™ technology |
| Brightness (typical): | 1300 lumens using 220W lamp |
| Resolution: | WXGA (1280 x 768) with native support for 720p (1,280 x 720) and XGA (1024 x 768) |
| Contrast Ratio: | 5,000:1 in ImageAI™ mode |
| Noise Level (typical): | 27dB |
| Lamp Life (typical): | 3,000 hours |
| Computer Compatibility: | VGA (640 x 480) to amazing UXGA (1600 x 1200) |
| Video Compatibility: | HDTV (720p, 1080i, 1080p), EDTV (480p), SDTV (480i), 576i/p |
| Aspect Ratio: | 16:10 native, 4:3 compatible NTSC, PAL, SECAM |
| Throw Ratio: | 1.58:1 to 1.9:1 (distance/width) |
| Horizontal Scan Rate: | 15 to 100 kHz |
| Vertical Refresh Rate: | 43 to 85Hz |
| I/O Connectors: | HDMI, DVI-I with HDCP, RCA component video, composite video (RCA), S-Video, two IR receivers, +12V trigger relays, RS-232 communication, AC power unit |
The Optoma HD72 home theater projector will be available in Q1 2006 for $3,999 MSRP through authorized Optoma dealers.
For more information, please visit www.optomausa.com .