Olevia Syntax Signature LCD TVs
Olevia Syntax Signature LCD TVs
Filed under: Televisions & Displays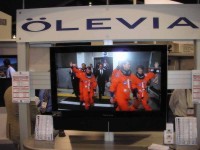 Olevia Syntax introduced a new line of high end LCD flat panels called the Signature series. The new LT47 Hvi has a native resolution of 1080p and is factory calibrated to D65 from the factory. Each new panel will go through a multi stage quality control process to insure the panels is of high quality and ready to be shipped to waiting consumers. They will also have the technician's signature mounted on the panel. These new LCD panels simply looked incredible.
Designed especially for discriminating home theater consumers who want the best of the best in video and audio performance, the 42-inch and 47-inch Olevia Signature LCD HDTVs feature the award-winning Silicon Optix Realta video processor with HQV powered by Teranex. D2Audio's patented Intelligent Digital Amplifier delivers sophisticated sound quality and an immersive listening experience to the Olevia Signature TVs.
"To meet the demands of the high-end home theater market, it is essential to integrate premium technologies providing the highest picture quality, plus a competitive price and full service warranty support," said Sam Miller, Chief Product Officer of Syntax-Brillian. "HQV (Hollywood Quality Video) topped our list of the best technologies on which to base our Olevia Signature HDTVs."
Premium specifications of the Olevia Signature LT42HVi and LT47HVi LCD HDTVs include 1080p HDTV resolution, high quality 42-inch and 47-inch Super-IPS LCD panels (1920 x 1080) with 16:9 aspect ratio, 1600:1 dynamic contrast ratio, 800cd/m2, and wide 178 degree (H)/178 degree (V) viewing angles. In addition to two ATSC/NTSC combination built-in tuners, the Olevia Signature series HDTVs feature a rich array of video and audio inputs/outputs including two HDMI, three component, two S-Video, two composite, VGA, two RF, a headphone jack, digital audio and subwoofer. Picture-in-Picture and split screen modes enable viewing of multiple content sources simultaneously. Using the USB port, consumers can keep their TV up-to-date by obtaining firmware update downloads from Syntax's website.

Packaged in an elegant all-glass front with upgraded anti-reflective coatings, the Olevia Signature LCD HDTVs feature two speaker mounting options. The two 25-watt stereo speakers can be mounted horizontally on the bottom of the TV, vertically on each side via a conversion kit, or removed for connecting to an external audio system.
Included with Syntax's Olevia Signature LCD HDTVs as well as all of its future LCD TVs is the newly developed, very user-friendly OSD. Providing full control of picture characteristics, this OSD includes intuitive, pictorial based icon controls optimized for home use or store display, lighting modes to adjust for various environments, and video content controls for digital TV, analog TV, DVD and VCR.
Syntax-Brillian's has developed two new patent-pending feature technologies that are included in the new Olevia Signature HDTVs. Big Picture Technology delivers up to 11% more of the digital broadcast image and up to 37% more of analog images without distortion so viewers can see more of the picture displayed on each side of the TV. Director's Image enables viewers to see realistic content in the same way that the director intended images to be displayed. Director's Image features calibrated color temperature (6500 degreesK) at 2.2 gamma, red/green/blue gain controls and offsets, optimized gray scales, black level adjustment for NTSC and ATSC, full range contrast adjustment, color and tint colors for red/blue saturation and sharpness.
Available in Q2 2006 (summer), estimated MSRP of the Olevia Signature LT42HVi and LT47HVi LCD HDTVs will be $3499 and $3999, respectively. Olevia LCD TVs (26"+ unit) include a free first-year on-site warranty service plan.