Newpoint Theatre Director UPS
Newpoint Theatre Director UPS
Filed under: Miscellaneous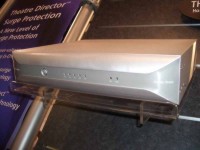 Newpoint announced its Theatre Director UPS for home theater owners. The company showcased its new system at the 2006 International CES tradeshow and caught our eye with their new products.
The Theatre Director UPS aims to be a reliable and affordable UPS product that will maintain A/V component settings, continue program recording and protect sensitive and valuable equipment during unstable power conditions. In addition to providing battery backup for home theater components, the Theatre Director includes a proprietary s-OV technology and power conditioning with up to 80dB attenuation of EMI & RFI noise. Unusual for UPS systems, the Theatre Director includes dual UL listing for both battery backup and surge protection.
The Theatre Director features Newpoint's proprietary Smart Over-voltage (s-OV) technology (patent pending), which utilizes a microprocessor to trip multiple relays disconnecting both the hot and neutral AC power lines when an over-voltage condition is detected. Unlike traditional surge protectors that merely absorb a certain level of energy with metal oxide varistors (MOVs), the s-OV solution completely isolates connected equipment to eradicate the danger of potential damage to sensitive electronic equipment during an over-voltage event, such as a lightning strike or damaged wiring. During a power outage or over-voltage event, Theatre Director's high capacity battery activates to provide continuous power to the connected equipment. When normal power is restored, s-OV automatically resets itself to restore the delivery of clean, safe power and begins recharging the battery for future use.
The intelligent LCD display on the front panel continuously lets the owner know input voltage level, battery charge level, battery load level, remaining battery run time, automatic voltage regulation (AVR) activation and the current time.
In addition to providing the best method of power management for home theater systems, the Theatre Director is designed to stack up with all of the other components of the system. This brings all of the AC outlets, coax, network and phone jacks off the floor and right next to all of the items that will be connected to it, providing exceptional convenience when installing the system.
As an added bonus, the versatile cabinet can be mounted horizontally -- to stack with A/V components, or the included base can be utilized to mount it vertically for use in computer applications. The front panel LCD display rotates 90-degrees to display the information in the proper format regardless of the mounting option chosen.
The introductory model 204230 provides twelve AC outlets, a 5070 joule rating, automatic voltage regulation, four sets of gold-plated coaxial cable protection, RJ45 networking protection and 1-in/2-out splitter RJ11 modem/phone protection. The unit carries a $1,000,000 connected equipment warranty and a suggested retail price of $399.99.
The Theatre Director UPS is scheduled for commercial availability in July 2006. For more information about Newpoint or any of its product offerings, call 1-800-852-4312 or visit the company's website at http://www.newpoint.com .