Newpoint PowerSquid
Filed under: Miscellaneous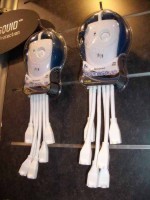 Everyone needs power protection, but sometimes the standard power bar isn't the most flexible or ideal tool - especially when connecting wall warts (transformers). Enter Newpoint's PowerSquid surge protector. The new PowerSquids feature Ultra MOVs (Metal Oxide Varistors), which Newpont claims is the latest and most sophisticated technology on the market with enhanced heat dissipation and 27% greater capacity. They also claim that electromagnetic interference in the current has been shown to hurt performance and be a source of errors and damage to sensitive components. Every Newpoint PowerSquid features Purestream power filtering technology to protect your equipment. The PowerSquid Tripwire circuit physically severs the electrical circuit in the event of a catastrophic event like a lightning strike to protect your equipment from harm.
Phone line protection is provided by ultra-reliable and fast-acting sidactors with integral line splitter. Coaxial cable protection is provided by gas tube with gold plated connectors for better signal transmission. Many damaging surges enter through information lines rather than power lines, so it is good to see these types of connections included.
For more information please visit www.newpoint.com .