Logitech Z-5450 5.1 Gaming Speakers
Logitech Z-5450 5.1 Gaming Speakers
Filed under: Loudspeakers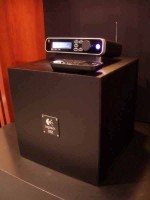 We stopped off to see the new Logitech Z-5450 Digital speakers, where each of the two rear speakers is completely independent, with own wireless receiver and power amplifier built in. All each rear speaker needs is a power outlet and it's up and running anywhere in the room. With 315 watts of power, the Logitech Z-5450 Digital system seems to provide an excellent solution for those wanting a full surround sound gaming experience - without the requisite line level wires. For those in apartments or just in an area where dragging cables around or over a room is difficult, this provides a compelling option.
Key Features
THX® certified, Dolby® Digital and DTS hardware decoding for pure 5.1 digital sound with dual wireless rear speakers
The Z-5450 Digital includes support for DTS® 96/24 - an enhanced, higher-resolution, studioquality format available on many DVD video and DVD Audio discs
Support for up to 7 inputs on control center and comes with a wireless remote
Wireless remote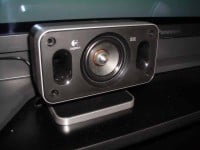 Technical Specifications
Power
Total RMS power: 315 watts
Satellites power: 199 watts (2x38 watts . front; 2x40 watts rear; . 42 watts center)
Subwoofer power: 116 watts
Total Peak Power: 630 watts
Maximum SPL: > 103 dB
Frequency response: 35 Hz - 20 kHz
Amplifier: Ultra-linear, highcapacity analogue
Input impedance: 9,500 ohms
Drivers
Satellites: 2.5" aluminum phase plug drivers
Subwoofer: 6 1/2" high-excursion driver
Source Inputs
2 Digital optical input
1 Digital coaxial input
1 6 channel direct (3 stereo-mini connectors) for 2, 4, or 6 channel PC sound cards OR 3 stereo-mini connectors for 3 stereo analog mini audio sources
1 Analog stereo-mini for portable CD, MP3 or MiniDisc® players
For more information, please visit www.logitech.com .