LG Plasma Displays
Filed under: Televisions & Displays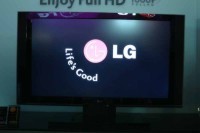 LG Electronics unveiled its latest lineup of plasma display panel innovations at CES and they had a LOT of new displays. The expanded portfolio includes nine plasmas - four of which are all-new HDTVs with built-in 160-gigabyte high-definition digital video recorders (DVRs). Improving upon its already superb picture quality, LG is upgrading its proprietary XD Engine technology for 2006 to include a 14-bit color processor, giving step-up models the capability to reproduce dramatically more color gradations. All 50- and 42-inch models feature LG's 60,000-hour "DoubleLife" panels for years of viewing pleasure, Image Sticking Minimization mode and carry two-year warranties. All nine models include HDMI inputs (five with dual jacks), a PC input and LG's industry-leading fifth-generation VSB/ATSC tuner chipset.
Embedded High Definition DVRs
Meeting the need for a more digitally integrated home, LG also introduced four plasma integrated HDTVs with built-in high-definition DVRs. The PC1DR Series includes two 50-inch displays with built-in HD-DVRs with premium cosmetic designs - the 50PC1DR in a black/silver gloss and the 50PC1DRA in a black gloss finish. The units are capable of storing up to 15 hours of digital high-definition programming or 66 hours of standard-definition programming. Users have the ability to pause, rewind and replay live TV, skip commercials or other sections of programs, watch shows without missing a scene and watch them at anytime. These units also include the Gemstar TV Guide Onscreen interactive program guide, which offers viewers a simple way to find and record their favorite shows and the ability store recorded programs in customized folders. Slated for the first-quarter 2006, both units incorporate XD Engine and HDMI inputs and are Digital Cable Ready - allowing for digital cable reception, including HD programming, without the need for an external cable box.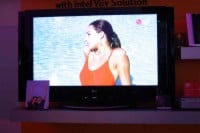 Featuring a slim, glossy design that can be easily integrated in any home, the PB2DR Series - the top-of-the-line 60- and 50-inch displays (60PB2DR and 50PB2DR) - goes beyond the ordinary by improving on last year's award-winning LG plasma display HDTV with built-in DVR (PY2DR Series). The PB2DR series integrates two ATSC tuners, allowing viewers to watch one high-definition program while recording another - never ever again is there a need to miss favorite programming or sporting events. Similar to the 50PC1DR and 50PC1DRA, the PB2DR units are Digital Cable Ready, incorporate XD Engine, dual HDMI inputs and are capable of storing up to 15 hours of digital high-definition programming or 66 hours of standard-definition programming. Expected to be available third-quarter 2006, the PB2DR Series also offers the latest version of TV Guide On Screen®, 9-in-2 memory card slots and a built-in swivel base.
42" Plasma Round-up
As part of its growing portfolio, LG unveiled three 42-inch HDTV plasmas. The 42PC1DA is Digital Cable Ready and includes TV Guide On Screen, dual HDMI inputs and 2006 XD Engine. The 42PC3D and 42PC3DV models include PSIP guide, HDMI input and PC input. The 42PC3D is a high-definition model in a sleek black casing, while the 42PC3DV will be an ED model and offered in silver. Also part of the PC3D Series is the 50-inch version (50PC3D), which incorporates an ATSCQAM tuner, PSIP guide, HDMI input and PC input. Further, all 42-inch models will feature a new "Clear Filter," an advanced thin-film filter that not only reduces the weight and depth of the panel, but also cuts reflectivity in bright environments and improves the contrast and color reproduction. The PC3D Series and 42PC1DA are expected to be available late-first-quarter of 2006.
Rounding out LG's plasma line-up is the mammoth 71-inch; 71PY10 featuring full 1920 x 1080p HD display resolution. The display provides the highest available display resolution on the market (this week), offering a crisp, colorful viewing experience.
For more information, please visit www.LGusa.com .