LG BD199 BD Player
Filed under: DVD/HD-DVD Players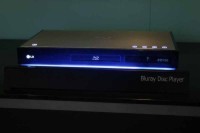 LG Electronics officially announced its 2006 A/V product line highlighted by one of the industry's first Blu-ray Disc players, and expanded lines of DVD players, recorders and combination products. LG's Blu-ray Disc player - model BD199 - will be among a crop of players using the new high-definition disc format, expected around the second quarter of 2006. Pricing and availability will be announced later. LG, which announced Blu-ray products last year that did not make it to market, said the BD199 will playback new blue-violet laser BD-ROM discs, but offered few other details about the player.
What we do know is that the BD199 can play Blu-ray Discs, along with DVD+/-R/RW and CD+/-/R/RW discs. It will also supports the standard A/V codecs/compression associated with BD such as VC1/H.264, AVC, newer audio formats such as DTS++ and Dolby TruHD and the legacy MPEG-2. LG included another feature not often discussed in that the BD199 will be able to playback Interactive Java Titles via BD-ROM discs. It states that it will come out of the gates playing 1080p/24/30/60 (1920x1080) resolution. Connections included HDMI, component, 7.1 analogue audio and s-video/composite connections.
For more information, please visit www.LGusa.com .