HP md6583n 65" DLP HDTV
Filed under: Televisions & Displays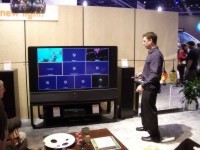 HP had a very impressive display of their new 65-inch md6583n DLP television. It features a Wobulated 1080p image (supporting 1080p/24/30/60 input according to the specs) with a DynamicBlack aperture for rich dark black levels. Together with a 7-segment color wheel, this helps deliver up to stated 12,000:1 contrast ratio. An onboard 2.1 (85 watts) audio system (yes it has an integrated subwoofer) and an optional matching stand round out the feature set of this exceptional-looking television. The audio can also be output from the unit for use with an AV receiver system and external speakers. They had an impressive presentation on this unit which showed off, not only the television but also an HD DVD/Media Center head unit that fed the system music, movies and photos - all at the touch of a remote or wireless keyboard.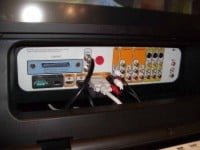 Looking under the hood, you can see why I was truly impressed by this set. For quite possibly the first time, a large HDTV has lighted front access to the AV input connections with built-in cable management. This alone was worth the price of admission as I have done my fair share of crawling behind televisions attempting to connect a new piece of gear in the darkened areas behind the set. Here you can see twin sets of HDMI inputs (very rare), VGA input, dual component video inputs, CableCARD, RS-232, and the usual suspects (10 inputs in all). The 150W DC UHP lamp was also given front access on this set as well, making it quite possibly the easiest to use (mechanically) television I've ever encountered.
The md6583n DLP television is upgradable via USB and has a built-in ATSC tuner (in addition to NTSC) for off-air HDTV over antenna. The sound system incorporates SRS TruSurround XT and there are four customizable audio modes. The on-screen display features a thumbnail source selection which actually gives you a grid of what is connected (in terms of source) to each of the 10 inputs on the TV.
The MSRP of the television is $5000 and it should be available this year for retail sale.
For more information, please visit www.hp.com .